China morning round-up: Tackling 'internet rumours'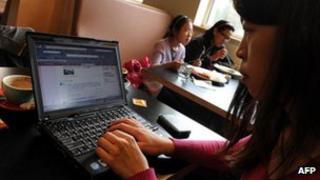 An appeal by a Chinese internet agency to tackle "internet rumours" is widely discussed in Monday's newspapers.
People's Dailyand others report that the Internet Society of China published a proposal on the matter, claiming that online rumours had caused a "serious threat" to people's rights, public interest, national security and social stability.
The society - which is overseen by the Ministry of Industry and Information Technology - asks internet firms to "boycott the spread of online rumours consciously" and intensify management of online forums and micro-blogging platforms.
People's Daily,Shanghai Morning Post,Guangzhou's Southern Metropolis Dailyas well asBeijing Timesall run commentaries which claim that the "real name" system - whereby users are required to register their real names before participating in forums or on micro-blogs - is the solution to the problem.
China launched a "clean-up" of two major micro-blogging platforms late last month after rumours of a coup in Beijing spread amid speculation about a power struggle among the ruling elite as top Communist Party official Bo Xilai was sacked.
Beijing Timesalso reports that with security officials from member states of the Shanghai Cooperation Organisation meeting in the Chinese capital on Thursday, the six countries will discuss strengthening efforts to combat "online terrorism".
Amid talk of online controls,Hong Kong's Sing Tao Dailysays news of the death of veteran Chinese dissidentFang Lizhihas been censored in China's cyberspace.
Prof Fang's death has not been reported in mainland China apart from in the Global Times, which rana bilingual editorial.
"The batch of dissidents who charted the same route as Fang failed to make a splash. A few of them died quietly abroad. This perhaps is not what they had imagined at the beginning," says the editorial.
"The Dalai Lama is another good example. He has been supported by the West for decades. Except for his seemingly glorified status, his real mission is hopeless. "
"Many choose to advance China's democracy within this legal framework. Confrontation is pointless," it said.
The papers also focus on the foreign ministers' meeting between China, Japan and South Korea which concluded on Sunday.
China Dailyand theGlobal Timesreport on the trio's vow to "do their best" to cool regional tensions as North Korea prepares to launch a rocket.
Papers includingShanghai Dailyand theGlobal Timesall reported on the tour of the launch site given by North Korean officialsto selected media organisations.
A front page commentaryin the People's Daily Overseas Edition appeals to the three nations for "practical co-operation" on other issues, amid differences over historical and political issues.
Also in Monday'sChina DailyandBeijing Newsare reports on the apparent mystery surrounding China's badminton super-star Huang Sui.
Huang "went missing" in early 2009 but resurfaced last week to represent Australia in the Sydney Badminton Open. Reports say she is still on the state payroll in China.
China Dailyalso reports that a British-built Hawker Siddeley Trident jet has been abandoned in a field in eastern Anhui province.
The military jet - which was once used exclusively by late Premier Zhou Enlai - was meant to be an exhibit inside a museum to be built on the site where the jet now stands, but the museum never materialised.