China morning round-up: Brics summit concludes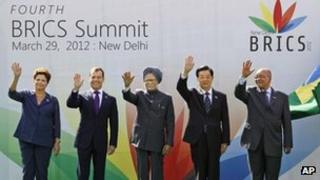 National newspapers lead withthe conclusion of the Brics summit in New Delhi.
China Dailyreports President Hu Jintao pledged the bloc of five would "step up co-operation among fiscal and financial authorities".
Development banks of Brazil, Russia, India, China and South Africa also signed currency agreements that will "help reduce transaction costs for intra-Brics trade", says the report.
People's Dailysays Mr Hu reaffirmed China's commitment to peaceful development and a strategy of mutual benefit.
Leaders from the five countries published the Delhi Declaration at the end of the summit, calling for a diplomatic resolution to the Syrian crisis.
The Global Timessays the declaration is a symbol that the Brics grouping is now "flexing its diplomatic muscles".
As the Chinese president heads for Cambodia for the last leg of his foreign visit,People's Dailyreports how China's aid projects have brought momentum for development there.
Shanghai Morning Postsays it is the first visit to Cambodia by a Chinese head of state in 12 years.
It also mentions speculation that Mr Hu will urge Cambodia - the rotating president of Asean - not to allow the South China Sea issue to be included on the agenda for the upcoming summit.
A front page commentaryin the People's Daily Overseas Edition criticised such speculation, saying Asia's own problems need no outsiders "to gesticulate while talking".
The arrest of two billionaires in Hong Kongon suspicion of corruption has also received attention across China.
Hong Kong newspapers includingThe Standardand its sister paperSing Tao Dailynamed the third person arrested by the city's corruption buster as Rafael Hui, former Chief Secretary for Administration of Hong Kong.
Ming Pao Daily Newssaid in its editorial that this latest arrest was yet another blow to the local government's corruption-free reputation.
In mainland China,Shanghai Dailypoints out that the arrests come four days after Hong Kong'schief executive electionin which collusion between government and business emerged as a key campaign theme.
China Business Newsdescribes the arrest as a "major anti-corruption earthquake".
In other developments, as the US confirmedthe suspension of food aid to North Korea, the Global Times lashed out on the Westin a bilingual editorial.
The editorial says: "South Korea, the US and Japan should also take responsibility for North Korea's current diplomatic stance."
"It is unfair for a small country like North Korea to endure so much pressure from these big powers."
Papers includingChina DailyandBeijing Timesreport the cabinet's approval of a draft law on school bus safety, which was widely demanded by the public after a series of fatal accidents last year.