China morning round-up: Nuclear security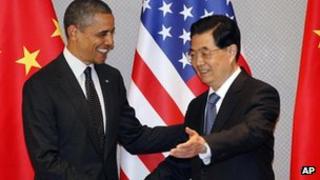 Bilateral talks between the presidents of China and the USon the sidelines of the nuclear security summit in Seoul occupy front pages in Tuesday's national newspapers.
Reports inChina DailyandPeople's Dailyfocus on relations between the two countries, while also touching on President Hu Jintao's exchange of views with President Barack Obama on North Korea's planned satellite launch.
Mr Hu's meeting with his South Korean counterpart, Lee Myung-bak, is also mentioned in several reports.Shanghai Dailysays Mr Hu urged all parties to be calm over the satellite launch.
"At present the situation is very complicated and sensitive. We do not hope to see a reversal of the hard-won momentum of relaxation of tension on the peninsula," Mr Hu reportedly told Mr Lee.
A People's Daily commentaryclaims China has carried out all sorts of measures to maintain nuclear safety within the country. It urges all countries to implement their "political pledges" on such issue.
Global Times' bilingual editorialhits out at the US, saying it has "never seriously considered other countries' opinions".
"Except for sanctions and the threats of war, Washington has not made much effort," it says. "Concessions from the US toward enemy countries are nearly impossible."
Back in China, many papers including theChina Dailyreport on the latest remarks by Premier Wen Jiabao, who called corruption "the most crucial threat to the ruling party".
At the anti-corruption meeting in Beijing, Mr Wen further said that failing to contain corruption could lead to "fatal destruction to the ruling power and its policy", reports theBeijing Times.
Guangzhou's Southern Metropolis Dailysays Mr Wen spelled out for the first time that civil servants should disclose some personal information, including changes in marital status and whether family members have emigrated.
There has been serious public concern that some corrupt officials are sending their entire families overseas as part of their plan to flee after embezzling large sums of money.
Shanghai Morning Posthighlights another order from the premier that no public money should be spent on buying luxury gifts such as wine and cigarettes.
In other news,the Global Times' English editionreports on the meeting between Vice-President Xi Jinping and visiting Irish Prime Minister Enda Kenny in Beijing.
Its Chinese editionreports on the news that China's top telecommunication equipment maker Huaweihas been barredfrom participating in Australia's national broadband network project.
People's Dailyruns yet another article on recent trade sanctions on China imposed by the US, Japan and the EU. It claims that China has always been a victim of trade protectionism.
Beijing Timesreports that the Chinese capital is planning to tighten its smoking ban. A former disease control officialtold the paperthat Beijing's success on tobacco control would have great national significance.