UK asks China to probe man's death in Chongqing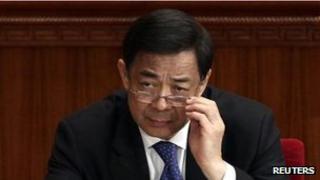 The British government has asked the Chinese authorities to look again into the death of a UK citizen.
Neil Heywood died in Chongqing last November, apparently because of the over-consumption of alcohol.
His family and the British embassy initially accepted the police findings, but doubts have now been raised.
The case has attracted increased attention because the British businessman was a friend of sacked Chongqing boss, Bo Xilai.
Mr Bo is one of China's most popular politicians, but has just been removed from his post in one of the biggest political scandals to hit the country in years.
Despite the friendship, the BBC understands there were no business connections between Mr Heywood and Mr Bo's family.
'Speculation' and 'concerns'
Several British nationals living in China told the UK embassy in Beijing of their suspicions about the death.
A spokesman for the embassy confirmed that it had then asked the Chinese police to look again into the case. It made the request earlier this year.
The spokesman said: "There was speculation, which was referred to us, so we passed it onto the Chinese authorities."
It is not yet clear whether the Chongqing police have re-opened the investigation.
The embassy spokesman could not confirm the cause of Mr Heywood's death, but it is believed to have been due to the over-use of alcohol. After his death, he was cremated.
"Back at the time, the family was content with how the case was being handled and had no reason to disbelieve the police's findings," added the spokesman.
The British embassy declined to comment on the nature of the new concerns, but media reports suggested the dead man was a teetotaller.
That suspicion appears to be false: someone who knew Mr Heywood told the BBC that the dead man did occasionally drink.
Other rumours surround Mr Heywood's friendship with the Chinese politician Bo Xilai, who made his name in Chongqing by cracking down on organised crime.
Mr Bo was removed from his post as communist party boss in the city earlier this month because of his connection with a scandal involving Chongqing's police chief, Wang Lijun.
Mr Wang was demoted and then fled to the US consulate in Chengdu. Many believe he went there to seek asylum.
There have been media reports that Mr Heywood, who was married with two children, worked as a butler for Mr Bo's son, Bo Guagua.
These reports are understood to be untrue, but Mr Heywood and the younger Mr Bo have been good friends for some years and met regularly.