China morning round-up: Cross-strait relations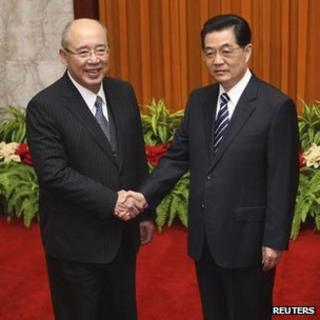 National newspapers in China gave prominent coverage on Friday to the meeting between the Chinese president and the former chief of Taiwan's ruling party.
President Hu Jintao - in his capacity as the general secretary of the Communist Party's Central Committee - met with Wu Po-hsiung, honorary chairman of Taiwan's Kuomintang (KMT) party.
It is the first meeting between the two ruling parties since Taiwan's President Ma Ying-jeou secured a second term in January's general election, says theChina Daily.
Mr Hu told Mr Wu that Taiwan and mainland China should push for a peaceful development of cross-strait relations "hand in hand like a family", reports thePeople's Daily Overseas Edition.
The Global Timessays Mr Wu has proposed a new concept of "one country, two areas" as the "legal base" for handling relations between the two sides.
Although cross-strait relations have improved since Ma Ying-jeou came to power in Taiwan, China still regards Taiwan as a breakaway province and refuses to recognise the Taipei government as a national government. Taiwan also officially refuses to recognise the Beijing government as the government of China.
In domestic news, theGlobal Timesand People's Daily report on the cabinet's approval of this year's plan for economic reform.
Beijing Newshighlights the section of Beijing's announcement on reform of China's railway system, which would include the separation of the Railway Ministry's administrative and operational functions over China's railway network.
People's Daily Overseas Editioncontinues with its propaganda against the latest round of anti-subsidy sanctions laid by the US, saying the US has actually "gained a lot" from its trade with China despite a significant trade deficit.
A commentary published inthe Global Timesdescribed the latest sanctions as "disgusting".
Shanghai DailyandBeijing Newsalso carried the foreign ministry's comments confirming that 21 Vietnamese fishermen had been detained for operatingin the disputed Paracel Islands.
China DailyandBeijing Timesreported that a new guideline on organ donation will soon be issued by the heath ministry and China's Red Cross Society, aiming to reduce the country's reliance on prisoners on death row for transplant organs.
Also featured onChina DailyandGuangzhou's 21st Century Business Heraldis a meeting in Chongqing between the new Communist party secretary Zhang Dejiang and executives of Taiwanese technology firms.
Mr Zhang, who is also one of the four vice-premiers of China, has vowed to put the central municipality in a leading role in global technology.
Mr Zhang has been appointed to serve the Chongqing post concurrently after the recent sacking of his predecessor Bo Xilai.