Online restrictions after China Ferrari crash - media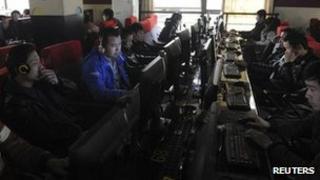 Information about a Ferrari car crash that killed a man in China, as well as the word "Ferrari", appear to have been deleted from websites, state media report.
The incident happened on Sunday in Beijing's Haidian district, says the Beijing Evening News paper. Reports say two female passengers were injured.
The apparent censorship has raised questions about the driver's identity.
It comes after new rules for Beijing microbloggers took effect on Friday.
Based on photos posted online, the black car was "ripped in half", with "the engine in flames", the Global Times newspaper says.
The newspaper also quoted an official as saying that one of the female passengers sustained "a head injury and a fractured leg", but no information about the other passenger was provided.
Searches about the accident and the word "Ferrari" were deleted from Chinese microblog sites like Sina Weibo and web portals, media report.
"Ferrari crash information hushed up," read the Global Times headline.
"Almost all online information'' about the crash had been "deleted overnight, triggering suspicions as to the identity of the deceased driver," the paper went on to say.
It said Weibo, China's equivalent of Twitter, "deleted all microblog posts which mentioned the accident, and blocked online searches of the word 'Ferrari'". News reports about the crash were deleted from many other web portals, the paper said.
Chinese people are increasingly using microblogs to criticise government policies or vent anger over particular incidents in a country that retains strict control over state media.
Some 300 million people now use Weibo, although users need to register with their real identities to post online.
Since Friday miillions of microblog users in Beijing now have to follow new rules, as authorities try to prevent the spread of what they call "unfounded" rumours.