Forbidden City art robber jailed for 13 years in China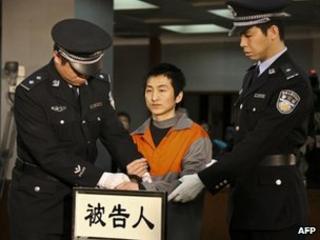 A Chinese man has been sentenced to 13 years in prison for stealing nine pieces of art from Beijing's famed Forbidden City.
Shi Baikui, who carried out the robbery last May, has also been fined 13,000 yuan ($2,056; £1,299). Police say three of the relics are yet to be recovered.
He was sentenced by Beijing court after pleading guilty at a previous hearing.
Correspondents say it has highlighted lax security at the famous museum in the heart of the Chinese capital.
The palace museum - based within the Forbidden City - is updating its alarms to prevent such thefts in future, says the official Xinhua News Agency.
'Spur-of-the-moment'
Shi Baikui, a 27-year-old farmer from Shandong, told the Second Intermediate People's Court of Beijing that the robbery was a "spur-of-the-moment" act as he had managed to disarm the alarm system.
During the robbery, Shi Baikui broke into the complex by knocking a hole in a wall, said the court in a statement.
He then made off with nine pieces dating from the beginning of the 20th century, including a purse and a woman's make-up case made of gold and jewels.
But during a hasty getaway, the robber apparently left five of the treasures in the compound of the Forbidden City.
Then, after failing to sell the remaining items, he reportedly threw them away - some ended up in a litter bin near the Summer Palace.
The stolen items were on loan to the palace by a private Hong Kong museum. They were insured for a total of 410,000 yuan ($64,900; £41,000).
Previous reports suggested that the Hong Kong museum had not insured the items for as much as it could have because it believed they would be safe in Beijing.
The Forbidden City was home to the country's emperors during the Ming and Qing dynasties. It became a museum in the 1920s after the fall of the last emperor Puyi a decade earlier.
Chinese media say Shi's theft is the sixth on record since the communists came to power in 1949. Previous convicts were either executed or sentenced to life imprisonment.
Shi is also the first Forbidden City robber to be sentenced after the Chinese Criminal Law amendment in 2010, when theft was removed from the list of crimes punishable by death.