China's new rules for microblog users take effect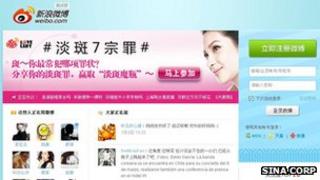 Millions of microblog users in China are now facing new rules, as authorities try to prevent the spread of what they call "unfounded" rumours.
Users in the capital, Beijing, now have to register with their real identities to post online. Other major cities are expected to follow soon.
Some 300 million people now use Weibo, China's equivalent of Twitter, seen as a key source of news and debate.
Critics have said the measures are an attempt to curb freedom of speech.
People are increasingly using Weibo platforms to criticise government policies or vent anger over particular incidents in a country that retains strict control over state media.
The new regulations in Beijing were announced by its information, communication and police authorities in December 2011.
Bo Xilai tweets
Users now have to provide their name and mobile number, which must then be verified. Those who refuse are barred from posting messages and will be limited to reading others' entries.
It was reported on Monday that Sina Corp's Weibo, China's most popular microblogging site registered in Beijing, expected 60% of its estimated 260 million account holders to have complied.
Shanghai and Guangzhou are also expected to follow Beijing soon in implementing user registration.
The new rules are taking effect as some microblogs have broken news of scandals, making authorities nervous.
On Thursday, news of leading politician Bo Xilai's sacking spread quickly on China's social media.
Correspondents say the number of searchable tweets fluctuated, but at one point a search for his name returned more than a million results. Within hours, the same search produced far fewer, suggesting internet censors had been hard at work.
"Yesterday [afternoon, Hong Kong time] when I did a search for the term 'Bo Xilai' it returned 1.2 million results," Rachel Lu, editor of Tea Leaf Nation which reports on China's social media, told the BBC.
"Last night when I did the same search there were 180,000 results. So a lot of censoring already happened in that time."
Chinese officials have also repeatedly criticised microblogs for spreading what they call "unfounded" rumours.
An example of recent false stories included reports that North Korea's new leader, Kim Jong-un, had been assassinated during a stay at the country's embassy in Beijing.
It remains unclear how successful this new registration drive will be, says the BBC's Martin Patience, as many of China's internet users are technologically savvy and find ways to skirt the issue.