China morning round-up: After the NPC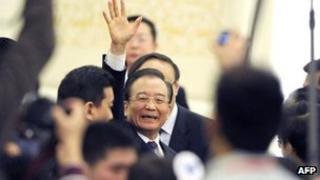 Thursday's Chinese newspapers were overwhelmed by one single headline -the last press conference given by Premier Wen Jiabaoat the end of the annual parliament session.
They were put out before state media announced that Bo Xilai had been removed from his position in the city of Chongqing. Social networks buzzed with this news as it spread prompting thousands of posts on the Sina Weibo microblogging site.
Indeed Hong Kong'sMing Pao Daily NewsandSing Tao Dailyhave been highlighting the premier's comment on Chongqing, where he urged local authorities to reflect seriously on the Wang Lijun incident and draw lessons from the case - presumably written before news of his removal.
But thePeople's Dailypublished a full transcript of Mr Wen's dialogue with journalists.China Dailysays the premier has highlighted "the challenges and opportunities" that he has to face in his final year in office at the presser.
The Global Timespicks up Mr Wen's warning that political reform should never go back, because otherwise, "historical tragedies such as the Cultural Revolution may take place again".
On its front pageBeijing Timesfocuses on the statement from Mr Wen that he will work "like a burdened old horse".
Commenting on Wen Jiabao's press conference,the Global Times' bilingual editorialsays: "His candid approach toward sensitive questions brought fresh information to the public, and set up a new example of openness for Chinese officials."
The editorial of Guangzhou's Southern Metropolis Dailysays Mr Wen has expressed a sense of steadiness and boldness for reform.
Andthe editorial of Ming Pao Daily Newssays that unless Mr Wen's comment on Cultural Revolution is rebuked by the Communist Party of China, the party should also take responsibility to answer the question of how China's 1.3bn population could avoid having another Cultural Revolution.
On the lighter side,Beijing Newssays the press conference lasted for 182 minutes - which is the longest in Mr Wen's premiership.
ThePeople's Dailyexamines the origins of all the Chinese literature piece that Mr Wen has been citing in his replies, whileBeijing Timeslooks back on which quotes the premier has been using over the past years.
The remaining focus of the day is the amendment to the Criminal Procedure Law, which has been passed at the closing session of the National People's Congress.
China Dailyconfirms that under the amendment interrogating criminals has been made a "must" for Supreme Court judges when they review a death penalty sentence.
A front page commentaryon the People's Daily Overseas Edition claims that the bill has made progress on China's rule of law, and rebuked criticism on Article 73 and 83 for "legalising secret detention" as "sensational".
Beijing Newsgives a breakdown of ballot on various reports and bills passed in this year's NPC, where the annual budget has received the most vote against it.