Wen Jiabao's emotional goodbye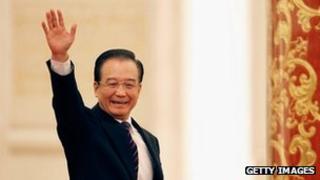 Chinese Premier Wen Jiabao has rarely been so emotional - or revealing.
He said "sorry" and spoke of regrets. He said that after 45 years of public service, history would judge his record.
Mr Wen also touched on a subject that is rarely mentioned in China in public - the Cultural Revolution, a chaotic 10-year period when normal life was turned on its head.
He said a similar "historical tragedy" could happen again in China without political reforms.
For 10 years, Mr Wen has given a news conference at the end of every annual meeting of parliament.
He is due to step down next year so this was his last meeting with local and foreign journalists, one of the few events where the world can get a glimpse of a Chinese leader.
History is important in China, and Mr Wen understands that he has a place in it.
"This is the last time for me to meet [you]," he said at the start of the conference, held in the opulent surroundings of the Great Hall of the People.
He immediately adopted a reflective tone that he maintained throughout.
"I should assume responsibility for the problems that have occurred in China's economy and society during my term of office, for which I feel truly sorry," he said in his first answer.
He did not, though, elaborate on which problems had bothered him most.
The premier said he had never worked for personal gain, perhaps mindful that hundreds of corruption scandals involving officials have dented many people's faith in government.
But he said he had been hurt by "slanders", failing to say what they were, or which ones had pained him most.
'Mistakes'
Mr Wen talked about political reform.
"We must press ahead with both economic structural reform and political structural reform, in particular reform in the leadership system of our party and country," he said.
The premier has spoken about this before, but it was his reference to the Cultural Revolution - when Mao Zedong tried to make China more communist - that was most striking.
"The mistakes of the Cultural Revolution… have yet to be fully eliminated," he said, warning China could experience a similar period of instability again.
It is not often you hear a senior member of the Chinese Communist Party speaking about this turbulent period in such stark terms.
But Mr Wen was not suggesting wholesale change.
He was vague about political reform, declining to say exactly what he meant and stressing that China had to go at its own pace.
The 69-year-old tried to wriggle out of a direct question about when Chinese people would be able to vote for their national leaders, as happens in many other countries.
Criticism
Wen Jiabao, like many Chinese leaders, remains an enigma.
He claimed that China's leaders welcomed criticism expressed on the internet. It is "natural for that to happen", he said.
And yet he presides over a government that routinely censors the internet - and has imprisoned many who have given voice to their criticism.
After nearly three hours, Mr Wen asked permission to leave.
As he got up, he was immediately surrounded by journalists wanting a final comment.
The premier is not a tall man and only his waving hand, stretching upwards, was visible from within a mass of bodies.
As they left, some reporters grabbed for the invitation cards they had been issued with to get into the briefing, perhaps believing that this was a historic event. Mr Wen talked like it was.
History will certainly judge Mr Wen, but perhaps it will not offer the outgoing premier the verdict he hopes for.