China railway: Collapsed line 'hit by subsidence'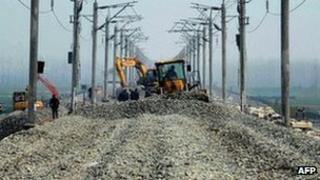 More problems have been found on a stretch of newly built high-speed railway line in China's Hubei province, media reports say.
About 7.2km (4.5 miles) of track are reported to have been affected by subsidence exceeding safety limits. The line suffered an embarrassing embankment collapse last week.
The building contractor, however, insists the problem is normal as it was discovered during pre-launch check-ups.
The line was set to open in May.
Photos in Chinese newspapers have shown workers removing rails and sleepers from the scene of the embankment collapse in Qianjiang city.
The railway company which owns the line has estimated that repairs will take up to a month, several state media reports said on Wednesday.
One local government railway official said it was too early to say what caused the subsidence problem.
China has embarked on an ambitious project to expand its high-speed rail network across the country.
The collapsed embankment is part of the Hanyi High Speed Railway, which links the provincial capital Wuhan with Yichang to the west.
China plans to launch nine new high-speed railway lines this year, bringing the total length of the network to more than 10,000km (6,250 miles).
The Hanyi line problems are just the latest incident to tarnish the reputation of the new network.
Forty people died last summer in a crash on a rapid train line in eastern Zhejiang province and the entire high speed scheme has been dogged with reports of corruption.