China railway workers repair 'collapsed' new line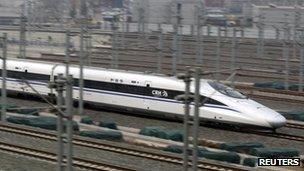 A newly built section of a high-speed rail line has collapsed in China's central Hubei province following heavy rain, state media reports.
The line was set to open in May and had been in use for test runs.
About 300m of the embankment in Qianjiang city collapsed last Friday, Xinhua news agency says. News of the incident only emerged on Monday.
China has embarked on an ambitious project to expand its high-speed rail network across the country.
But this is just the latest incident to tarnish the reputation of the new network, says the BBC's Michael Bristow in Beijing.
The collapsed embankment is part of the Hanyi High Speed Railway, which links the provincial capital Wuhan with Yichang to the west.
Hundreds of workers have been sent to the site to repair the damage.Photos from a local newspapershow workers removing rails and sleepers from the scene.
Heavy rain apparently caused the foundations to give way on the railway line, which forms part of the trunk route of the national high-speed network.
But one report from the local official news portal says the owner of the railway has rebuked initial local reports, saying they are "untrue".
"It is part of the process to rectify quality problems spotted on the embankment in pre-launch tests," the railway company claims.
Some internet users in China, however, are not convinced by the explanation. They ask if there are any flaws in the construction process.
On microblogging site Sina Weibo, a user from Yichang said: "Thank goodness that it collapsed early enough, or it would be yet another tragedy if it happened after launch."
Another user, from Wuhan, said: "I was longing for a more convenient journey home, now I'd better have no expectations."
China's leaders have praised rail network plans, but it has not been free from controversy, our correspondent says.
Forty people died last summer in a crash on a rapid train line in eastern Zhejiang province and the entire high speed scheme has been dogged with reports of corruption.
Related Internet Links
The BBC is not responsible for the content of external sites.