China rights situation deteriorating, say activists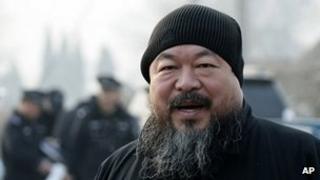 Conditions for activists in China deteriorated in 2011, according to a prominent Chinese human rights group.
Hong Kong based Chinese Human Rights Defenders (CHRD) said almost 4,000 political campaigners were detained last year.
The group's reportsaid more than 150 of those detained were tortured while at least 20 dissidents disappeared for weeks or months.
The government in Beijing insists the country is governed by the rule of law.
CHRD said the authorities had tightened their grip on activists after calls grew for Middle-East style protests in China.
The group said 2011 was the worst year in a decade for human rights in China.
'Warning to citizens'
The report added this "conveyed a warning to the ordinary Chinese citizens: anyone who challenges the government will be punished".
The use of so-called enforced disappearances, when people are taken by authorities and held in secret locations for long periods, is also highlighted.
The internationally renowned artist Ai Weiwei was among several dissidents who were held for months - he was released after being charged with tax evasion.
Other high profile cases include those of three human rights lawyers, Teng Biao, Jiang Tianyong and Tang Jitian who were also held for several months.
CHRD also criticised lengthy jail sentences of nine and 10 years which were handed out to long-time dissidents Chen Wei and Chen Xi.
On Thursday China's parliament unveiled plans for new legislation that would make it easier for police to detain dissidents.