China's leaders jockey for top posts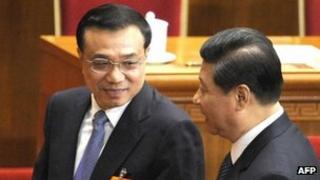 There are no opinion polls, no official candidates, not even a declared race - but a political campaign has begun in China.
Senior politicians are vying to secure promotion when the Chinese Communist Party reshuffles its top leaders later this year.
Some are using China's annual parliamentary session, currently taking place in Beijing, to push their competing claims.
Whoever emerges at the top of the party will have been selected by senior leaders using an unknown process at secret meetings.
Chinese citizens will not be involved.
But there are those who believe China's 1.3 billion people should have more say in how the country's leaders are chosen.
China will begin the process of handing over power to a new group of leaders at the end of this year when the party holds its 18th congress.
Seven out of nine people on the party's politburo standing committee - the country's most important decision-making body - are due to retire.
Xi Jinping, the current vice-president, and Vice-Premier Li Keqiang are the only ones expected to retain their seats.
All the others are up for grabs.
Although China's citizens will not be able to vote for them at an election, these hopefuls still have to show their appeal.
That is why politicians attending China's parliament, officially called the National People's Congress (NPC), are showing off their credentials.
Good politician
One man with expectations is Wang Yang, the current Communist Party boss in Guangdong province, the centre of China's export trade.
He has a reputation as a reformer, a theme he chose to highlight when Guangdong's NPC delegates met for their own meeting.
"Our reforms will take an important step forward if [we] represent the interests of the majority of people and not just the interests of minority groups," he said, to applause.
Like all good politicians, Mr Wang knows how to talk to an audience, making jokes and appealing to popular sentiment.
In a question-and-answer session with journalists, he said that Chinese elections to choose village heads should be more than mere "formalities".
The 56-year-old even looks slightly different to other candidates, allowing his hair to grey naturally at the sides, rather than trying to keep it jet black as most senior leaders prefer.
Bo Xilai, the party chief in the city of Chongqing, is another man tipped for a top job, although he has been quieter than usual at this parliament because of a scandal involving his former police chief.
But even he managed to put over his political outlook to those listening.
"If only a few people are rich, then we are capitalists, we've failed," he said at a meeting of Chongqing delegates.
There is little news in the official Chinese media about this political race, which will be decided by a few hundred top party leaders.
But Willy Lam, of the Chinese University of Hong Kong, said the competition for seats on the politburo standing committee was intense.
"They will be meeting behind the scenes to discuss the latest horse-trading and jockeying for power," he said.
Whoever comes out victorious later this year, one thing is certain: there will have been minimal input from ordinary Chinese citizens.
Independent candidate
That annoys Beijing resident Ye Jingchun.
The 55-year-old is one of a growing band of people who want to join the political system in order to have a say in how the country is run.
But like others before her, she now knows that the Chinese Communist Party has little patience with those that might oppose it.
Ms Ye was one of dozens of independent candidates who tried to stand at elections for district-level people's congresses, local government bodies below the NPC currently taking place in Beijing.
She wanted to stand in Beijing's Xicheng district.
China's propaganda machine made a big show of the election in this district because of a very famous voter, the country's president, Hu Jintao.
Official media reports showed Mr Hu pushing his voting slip into the ballot box last November. "I'm glad to exercise my right as a voter," he was reported as saying.
But Ms Ye's experience was not so enjoyable.
She said that when she tried to stand as a candidate, she was harassed by the police, roughed up and ultimately prevented from putting her name forward.
"At first I thought they'd let me stand, but as it went on, it became too difficult. The suppression was outrageous," she said.
Undeterred, she campaigned anyway, standing in residential compounds handing out leaflets and telling residents about her intentions.
When voting day came, she put her own name on the ballot paper - as you are legally entitled to do in China - and urged her supporters to do the same.
Ms Ye does not know how many votes she received that day though, as the number cast for each candidate was never made public.
"The Chinese government doesn't really want true democracy," she said afterwards.
That certainly seems to be the case at the moment.
Chinese top leaders are currently engrossed in a battle to see which of them will shape the country in the coming decade.
But that fight will largely bypass the people they will end up governing.