Chinese leader Bo Xilai's meeting absence creates stir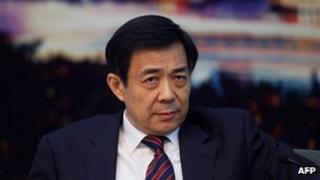 Speculation about the make-up of China's next group of top leaders has intensified after a high-profile politician appeared to miss a key meeting.
Bo Xilai, the Communist Party chief of Chongqing city, was not in his usual seat at a session of China's annual parliament.
He was expected to gain a senior post in the party reshuffle this year.
But a scandal involving his police chief has tarnished his reputation.
At China's annual National People's Congress, Mr Bo usually sits with his colleagues from the Communist Party's politburo. But at the latest meeting, he failed to take his place.
China's national broadcaster filmed these top leaders as they listened to a speech, and stopped short just before getting to the seat usually occupied by Mr Bo.
The parliament's press centre and the Chongqing delegation to the meeting declined to comment on Mr Bo's absence.
The BBC's Michael Bristow says that in the secretive world of Chinese politics, one absent official can cause a major stir.
Mr Bo's absence will inevitably lead to speculation that he is no longer in the running for a senior position for the party leadership reshuffle later this year.
His future has come into question because of a scandal involving Wang Lijun, the police chief he promoted in Chongqing.
Mr Wang gained national recognition after spearheading a crackdown on organised crime in the city. But he was recently removed from his post and given other duties.
He entered the US consulate in Chengdu city on 9 February and left the following day amid rumours that he was trying to seek asylum.
Chinese authorities arrested him when he came out. Officials say he is under investigation and could possibly face sanctions.