Tibetan teen burns himself to death in China protest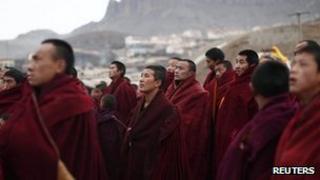 A young Tibetan teenager has burned himself to death in China, rights groups say, becoming the third such reported case this week.
Dorjee, 18, set himself alight near a government building in Aba county, Sichuan province, activists reported.
Aba county is where several in a series of self-immolations involving young Tibetans have taken place recently.
More than 20 Tibetans, mostly monks, have set themselves on fire in the last year in apparent anti-Beijing protests.
Dorjee, who reportedly shouted anti-government slogans as he set himself on fire, died at the scene, activists said.
Three activist groups and the Tibetan government-in-exile separately reported his death.
Two other cases of self-immolation took place in the same region over the weekend. On Sunday, rights groups said that a mother of four burned herself to death in Aba.
On Monday, a Tibetan student aged 20 reportedly died after she set fire to herself in Maqu county of Gansu province on Saturday.
Both areas are parts of Sichuan province with big ethnic Tibetan communities.
China has tightened security in the area in recent weeks ahead of sensitive anniversaries, such as the 14 March anniversary of deadly rioting in Lhasa four years ago.
Reports say there is increased surveillance at monasteries and that the internet and mobile phones have been partially blocked.
Verifying these accounts are difficult, as foreign media are not allowed into the area.