China morning round-up: Wen delivers Congress report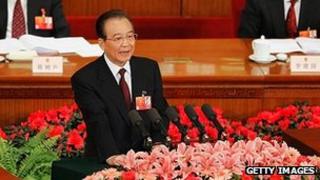 The front pages of Tuesday's Chinese newspapers are dominated by one story -Premier Wen Jiabao's annual report to parliament.
People's Dailyuses its annual format, which focuses on the opening of the National People's Congress (NPC) annual session and the presence of President Hu Jintao on the stage before leading into Premier Wen's report.
This is the second-last Government Work Report to be delivered by Mr Wen. He announced China had set a 7.5% economic growth target for this year - lower than the 8% target of the last eight years.
Adjusting the growth target was in line with the 12th Five-Year Plan as it sought "higher-level, higher-quality development",China Dailyquoted Mr Wen as saying.
The Global Times' English editionleads on Mr Wen's promise to protect land rights for farmers, with reference to the protests in Guangdong's Wukan village last year.
Guangzhou's Southern Metropolis Dailypicks up the line from Mr Wen's report which says China should not sacrifice people's health for economic development.
Its sister paper -the 21st Century Business Herald- reports on the promise that 4% of China's GDP will be spent on education.
Beijing News' editorialbelieves it is good to give up the 8% growth target, as it is "putting on the breaks gently" to reduce the risk for the ongoing social and economic transition.
Hong Kong's Ming Pao Daily Newsanalysed Mr Wen's speech in terms of how many times his speech was interrupted by applause.
It said Mr Wen only received 26 rounds of applause, which was rather low. His emphasis on combating property price hikes and maintaining social justice met with "no response", it said.
Regarding the panel discussions following the premier's report, Beijing News put together comments from two of the regional Communist Party heads in focus -Bo Xilaifrom the Chongqing Municipality andWang Yangfrom the Guangdong Province.
Southern Metropolis Dailyfurther reports on Wang Yang's comment on thelocal election in Wukan Villageover the weekend, which Mr Wang says was simply current regulations being properly implemented rather than any major breakthrough.
Shanghai Dailyand Shanghai Morning Post report on the presence of Vice-President Xi Jinping at the Shanghai delegation panel, where Mr Xi urged the financial hub to "speed up reform and innovation to achieve new heights in economic development and restructuring".
Also featured onthe front page of People's Dailyis a report on President Hu Jintao's telegram of congratulations sent to the incumbent Russian Prime Minister and President-elect Vladimir Putin.
The front page commentaryon the People's Daily Overseas Edition says China-Russia relations will see a bright future with Mr Putin becoming president again.
"Putin's victory is a positive factor for the stability of China's northern border and its global strategic environment,"says the Global Times' English editorial.
Back on the sidelines of the parliamentary session in Beijing,Shanghai Morning Postreports that a senior official from the State General Administration of Sports has defended leading athlete Liu Xiang.
Liu - who is also a CPPCC delegate - has applied for leave from this year's sessions, sparking criticism among delegates.
Hu Jiayan, the administration's deputy director, said Liu had to prepare for the upcoming London Olympics.