China morning round-up: Parliament meets in Beijing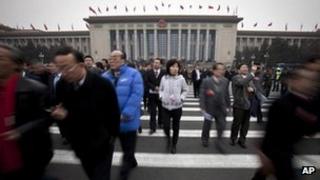 Monday's newspapers across China are flooded with coverage of the annual parliamentary session.
People's Dailyleads with President Hu Jintao's meeting with delegates to the Chinese People's Political Consultative Conference (CPPCC), which kicked off its annual session on Saturday.
Mr Hu vowed to enhance social security and improve people's well-being,says the China Daily.
People's Dailyalso carries an editorialwhich says it believes delegates to the National People's Congress (NPC) will be able to "convey people's wishes faithfully".
"Standing behind some 3,000 delegates are the 1.3bn population of China," the editorial says.
The Global Times' English editionalso played up the importance of this particular NPC annual session.
This is the "most important conference before the 18th National Congress of the Communist Party of China," said the session's spokesman, former Foreign Minister Li Zhaoxing, as quoted by the paper.
Citing "foreign" pundits,People's Dailysays the NPC system is the "fundamental political system that suits China's situation".
Also in the focus is thelatest defence budgetas revealed by Li Zhaoxing, which contains a rise of 11.2% to 670bn yuan ($106bn; £67bn) this year.
"China's limited military power is for the sake of preserving national sovereignty, security and territorial integrity," said Mr Li, quoted by theShanghai Daily. "Fundamentally, it constitutes no threat to other countries."
A front page commentaryon the People's Daily Overseas Edition criticises Western countries over their "over-concern" on the issue of China' s military spending, saying the country "has its own principles".
Major-General Tian Fuzhou, top military surgeon for the Chengdu Military Region, told Hong Kong'sMing Pao Daily Newsthat military spending for China should be in line with developed countries in terms of its ratio to GDP.
Also reported by Ming Pao Daily News isthe comment made by Major-General Luo Yuan- a leading military researcher - that China should build up its defence against attacks by "hostile countries", suggesting those countries might use bio-weapons based on genetic engineering or intervene in China's production of medicine and vaccines.
Another issue arising from the NPC session is the amendment of China's criminal code, which could seen the phrase "respecting and protecting human rights" being inserted into the code.
Guangzhou's Southern Metropolis Dailyreports on Li Zhaoxing's comments on this possible amendment, as he read out the corresponding articles in the Chinese constitution in front of journalists.
A commentary in the Beijing Timesrecognises the proposed amendment as a "general wish by citizens".
Other than events from Beijing,the Southern Metropolist Dailyalso reported results of local electionsin the Guangdong village of Wukan, as some of the posts went through a second round of voting on Sunday.
Ming Pao Daily Newssays some internet users described the event at this rebel village "as spectacular as" the two national meetings in Beijing.
The Metro Daily Hong Kong Editionsays the election in Wukan is regarded as the first democratic direct election in mainland China.