China cities 'will not meet new air standards'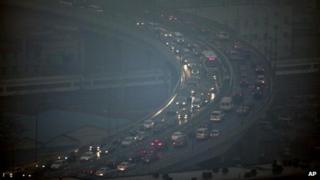 Two-thirds of China's cities will fail to meet new air quality standards, a senior environment official says.
The comments from Vice-Minister of Environmental Protection Wu Xiaoqing came two days after the Cabinet announced revised monitoring standards which will come to effect in 2016.
China's air quality has worsened amid rapid economic growth.
In recent months people have called for changes to monitoring systems to better assess pollution.
Under the new standards readings for ozone and concentrations of PM2.5 - particulate matter smaller than 2.5 micrometers in diameter - will be monitored.
Concentrations of PM2.5 must be kept below daily averages of 75 micrograms per cubic meter, compared to the US standard of 35 micrograms.
At the same time, acceptable levels of the bigger PM10 particles will also be tightened.
Mr Wu said according to estimates two-thirds of cities around the country will fail to meet the new standards.
"This shows we are facing a more serious challenge," he said.
'Public confidence'
Monitoring of PM2.5 will begin this year in the four municipalities - Beijing, Tianjin, Shanghai and Chongqing - as well as in cities in the Pearl River delta and the Yangtze River delta.
But most other cities will not begin monitoring until 2015.
Mr Wu said the government planned to set up 1,500 air monitoring stations around the country.
"We also want to build up public confidence in the data we provide in order to better serve the public," he said.
The reform came after an online campaign for more stringent monitoring drew widespread support across China, including from some famous figures.
"Since we are still a developing country, the development level of our economy and technologies determines that China could only comply with the World Health Organisation stage I limits of the pollutants such as PM10 and PM2.5," said Mr Wu.
He said China would improve air quality in cities by improving energy infrastructure and intensifying controls over industrial and motor emissions.