China rebel village of Wukan heads to the polls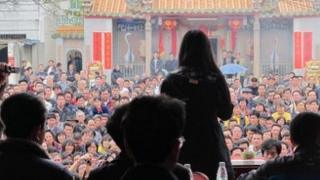 Almost three months after staging an extraordinary revolt the villagers of Wukan once again gathered in their square.
Under the midday sun, hundreds of locals listened intently to a series of campaign speeches made by a dozen or so candidates. Every so often, there were bursts of applause.
On Saturday thousands of villagers will go to the polls to vote for a new village committee in what many describe as their first "free and democratic election".
There was a carnival mood as a loud-speaker blasted out a song declaring "Socialism is Great - the Communist Party is Great".
But in early December it was very different here. Residents of this large fishing village in the province of Guangdong rose up in revolt after the local authorities confiscated their arable land to sell to developers.
Local officials fled as the villagers staged a series of protests. They set up make-shift checkpoints and repulsed attempts by the police to reassert control of the village.
But instead of cracking down, the Chinese authorities agreed to make concessions to end the stand-off.
The concessions included releasing detained locals and handing over the body of a village negotiator whose death in police custody triggered the rebellion.
Provincial party chiefs - who were forced to step in and end the dispute - also agreed to hold fresh elections to replace local party representatives who villagers believe sold them out in the first place.
While China's Communist Party selects the country's leaders, it has allowed villagers to elect councils with power over local issues since the 1980s. But such elections are often symbolic - more senior party officials often interfere in the process.
The people of Wukan say that they believe it will be different this time - but that if politics fail they will protest once again.
'Can't waste our efforts'
Among the candidates is Zhang Jiancheng, 26, a farmer's son. He was bundled into a car by under-cover policemen while eating at a local restaurant in December and held for two weeks.
But he now believes that politics - and not protests - is the best way to proceed.
"I believe that with a democratic system our future will be bright," he says. "We need to ensure that the elected officials work on behalf of the people."
The rhythms of normal life have returned to the village. At Wukan's harbour, a dozen or so small wooden boats bring in the morning catch. Locals then haggle over the price of fish and shrimp.
But faith in the authorities remains fragile.
The family of Xue Jinbo - the village negotiator who died in police custody - are slowly coming to terms with their loss.
His daughter, Xue Jianyuan, 22, says the family received more than $100,000 compensation from the authorities.
She says the village is now peaceful but that the battle to reclaim the confiscated land is far from over.
"We need to be calm and not be emotional so we don't make mistakes," she said.
"But we are determined to get our land back. We can't waste our efforts. If the land is not returned we will take to the streets again."
'Made us braver'
Rampant development is the main source of unrest in China's countryside. Villagers often have their land seized with little or no compensation.
But the way Wukan fought back has inspired other farmers. In a neighbouring village of Longguang, locals say they are facing a similar dispute.
"The people of Wukan are very courageous," says Chen Hanqiu, 42, a farmer. "They set a good example for other farmers."
"We're still scared about standing up to the local officials. But what happened in Wukan has made us braver."
Back in Wukan as the hustings wind up, an old man sits on some steps and plays a revolutionary song on his flute.
People living in the countryside are now more determined to fight for their rights. But in the struggle over China's land, it is not clear how much the authorities are willing to concede.