Explosion at China steel factory kills 13, injures 17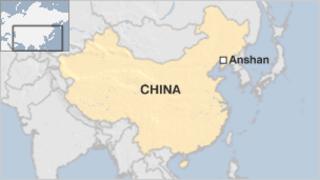 An explosion at a major steel factory in north-eastern China has killed 13 people and injured another 17, a company official said.
The blast took place late on Monday at a steel casting workshop belonging to state-run Angang Heavy Machinery in Anshan, Liaoning province.
A spokesman for the parent company, Ansteel Group, said investigations into the cause of the accident were ongoing.
The injured had been taken to hospital, state media said.
According to a statement from the provincial committee of the Communist Party, the accident happened when a mould exploded, the official Xinhua news agency reported.
Rescuers found 10 dead on Tuesday morning, and recovered another three bodies of workers previously identified as missing by noon, the report said.