Death for fraud: China debates Wu Ying's sentence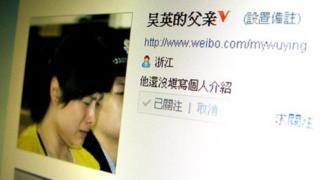 It was a fraud trial involving a huge sum of money - and the verdict triggered a national outcry and a rare promise from China's top court.
In 2009, at the age of 28, multi-millionaire Wu Ying was sentenced to death for illegal fundraising.
Last week, however, the Supreme Court of China stated publicly that her sentence would be reviewed "cautiously".
The discussion that erupted online over Ms Wu concerns not only her fate, but the future of China's legal and financial systems.
'Fraudulent fundraising'
Born in 1981, Wu Ying was raised in a rural area in Dongyang in eastern Zhejiang province. To the west is the city of Yiwu, famous for its international trade of small merchandise.
Before she had completed her technical school training, Wu Ying decided to abandon her studies to work in one of her relative's beauty salons. She went on to open a shop of her own.
From there her business empire expanded - and expanded. She formed Bense Group, running hotels, wedding planners, laundry shops, a logistics company and many other investments.
Then in 2007 Wu Ying was arrested by the police. According to reports, about 100 apartments that she owned were confiscated, together with dozens of luxury cars and her businesses.
She was initially charged with "illegally absorbing deposits from the public", but charges later escalated to financial fraud - and more specifically - fraudulent fundraising.
The indictment said she had raised 770m yuan ($122m; £79m) fraudulently from 11 people, with unreasonably high interest rates promised.
Wu Ying's case has been controversial since her arrest, but the High Court of Zhejiang's decision to uphold her death sentence has seen the debate renewed in the media and online.
One of the microbloggers' accusations is that the courts are applying double standards.
The same day the verdict in Wu's appeal was handed down, a court in Hebei sentenced Sun Lipeng - another businessman - to 20 years in prison for illegally raising 3.3bn yuan ($527m; £342m), according to Guangzhou's Southern Metropolis Daily.
Informal financing
From legal professionals to the general public, many people have said they do not think Wu Ying is guilty - because they regard what she has done as no more than informal financing - private lending that does not involve banks.
"We do not believe this is a crime, since she did not raise funds from the general public," said Wu Ying's defence lawyer, Zhang Yanfeng.
"She has neither fabricated nor concealed any facts," Mr Zhang told the BBC in an interview after the Supreme Court's statement. "She was lacking liquidity and she borrowed money."
"Private lending is a very common commercial phenomenon in Zhejiang and private landing has contributed to the success of Zhejiang businessmen," said Chen Jun, who is the vice-chairman of the Zhejiang Chamber of Commerce in Beijing.
If Wu Ying should die for what she has done, he said on his microblog, "then you can set a machine gun at anywhere in Zhejiang and go on rampaging. I can guarantee that every single one who gets shot would be a lender."
Chen Jun's comment is supported by what happened in Wenzhou last year, when banks reduced lending. One fifth of the city's 360,000 small and mid-sized businesses stopped operating due to cash shortages and bosses fled the city, in what was dubbed "China's credit crunch".
Analysts say it was the reluctance of proper banks to lend under the government's credit curb to tackle inflation that forced Zhejiang businessmen to seeks private loans. In addition, many Chinese people prefer private investments - because they can pay higher interest rates than banks.
Veteran Chinese lawyer Zhang Sizhi, who represented Chairman Mao's wife Jiang Qing in her subversion trial after the Cultural Revolution, submitted an open letter to the Supreme Court after Wu's appeal verdict.
"In view of the complicated reality of the financial market, the issue should be solved by opening up the market and establishing a free and fare financial system - not by maintaining a financial monopoly through the death penalty," said Mr Zhang in the open letter.
Death penalty rethink
Wu Ying's sentence has yet again made the Chinese nation think about capital punishment.
China removed some offences from the death penalty list a year ago. Most of these are economic offences, including some forms of fraud like those involving securities and tax invoices - but not fraudulent fundraising.
The Chinese government does not release figures of how many executions it carries out each year, but human rights organisation Amnesty International estimates "thousands of people" were sentenced to death in 2010 "for a wide range of crimes".
It is not hard to find people in China who support the death penalty. Last April when 21-year-old student Yao Jiaxin was convicted of stabbing a woman to death in order to cover up his hit-and-run crime appeals for his execution were almost unanimous.
Most public discussions cite an old saying: a murderer must pay with his life, just as a debtor must pay his debt.
For those who support Wu, the argument is she killed no one.
"The reason to sentence Wu Ying to death is to defend people's property and the country's financial order," said law professor Zhang Qianfan from Peking University.
"But how a country that does not even respect people's lives respect people's economic rights?" he told the website of Caixin Media.
Although it is hard to tell if China will eventually abolish the death penalty, some legal experts are already predicting that fraudulent fundraising will be the next to go from the list.
There is no legal time frame for the Supreme Court to confirm or reject a death sentence, and some other Chinese media have appealed to the public not to put pressure on the court.
However, the unusual statement made by the Supreme Court, together with the messages of support, have managed to pacify Wu Yongzheng, the father of Wu Ying.
"Thank you everyone," Mr Wu writes each day in his microblog, as he waits to hear the fate of the daughter who he has supported all along.
"From the beginning to the end, I believe my daughter is innocent," Mr Wu told BBC.
"If she were not an entrepreneur, if she had not set up a company, would she have had to go through all this suffering?"