Real name train tickets net fugitives in China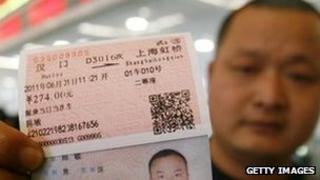 Police in China say more than 370 fugitives have been arrested during the Chinese New Year travel rush, under a new system which requires tickets to display the buyer's real names.
Among the detainees are murder and robbery suspects, officials say.
China has made real names compulsory in services such as online microblogs, a measure some see as a move to restrict civil rights.
Railway authorities insist it is a measure to combat illegal ticket sales.
The Ministry of Railways introduced the system in January to tackle illegal ticket sales known as "ticket scalping", which reaches its height during the travel rush around Chinese New Year.
The new system requires railway passengers to buy their tickets with a valid identity card or passport. Both the ticket and identity document are examined when entering train stations or getting ticket refunds.
Among the 375 fugitives arrested so far, 107 were caught in the Guangzhou railway police district, says the Ministry of Public Security in a statement.
During the annual rush, many workers and students in cities find it hard to secure a ticket to go home and even to return to cities for school or work once the festivities are over.
The annual Chinese New Year travel rush will officially end on Thursday.