China investigates Chongqing policeman Wang Lijun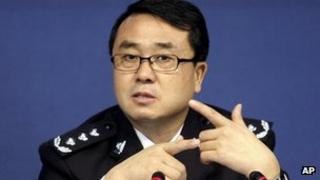 Chinese authorities say they are investigating after one of the country's top police chiefs spent a day at a US consulate, state media reports.
Wang Lijun entered the consulate in Chengdu on Monday and left the following day, Xinhua news agency said.
The US State Department earlier confirmed Mr Wang had visited, fuelling speculation he had been seeking asylum.
Mr Wang gained national recognition after spearheading a crackdown on organised crime in Chongqing.
But he was removed from his post and is now on leave because of "stress", according to Chinese officials.
Meanwhile, one of China's vice-foreign ministers, Cui Tiankai, said this was an "isolated incident" and that it had been resolved.
He also said it would not affect a visit to the US by Vice-President Xi Jinping next week.
'Overwork'
Correspondents say the incident could have ramifications for Mr Wang's boss, Bo Xilai, who appears poised to become one of China's top national leaders later this year.
Mr Bo has been one of China's most high-profile politicians of late, launching a campaign that praised the virtues of the country's communist past, as well as the crime crackdown.
Speculation over the fate of Mr Wang was sparked by a disturbance outside the US consulate building in Chengdu, which is a few hours drive from Chongqing, where Mr Wang is also the deputy mayor.
People reported seeing swarms of police officers, who set up roadblocks outside the consulate.
Speaking in Washington, US state department spokeswoman Victoria Nuland said: "Wang Lijun did request a meeting at the US consulate general in Chengdu earlier this week. He did visit the consulate and he later left the consulate of his own volition."
Ms Nuland said the state department did not talk about issues related to those seeking refugee status or asylum.
Mr Wang was removed from his post as head of Chongqing's police department last week and given other duties.
On Wednesday the city government's news department said on its micro-blog site that he had gone on leave.
"It is understood that Vice-Mayor Wang Lijun, who has suffered overwork and immense mental stress for a long time, is seriously physically indisposed. After agreement, he is currently taking holiday-style medical treatment," read the tweet.
Wang Lijun, 52, headed an attack on organised crime in Chongqing, which saw hundreds arrested, including the former head of the city's judicial authorities who was later executed.