China 'considering' eurozone rescue pledge, Wen says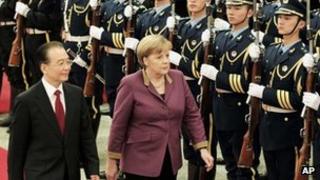 China is "considering" contributing to European rescue funds, Premier Wen Jiabao has told reporters.
But Mr Wen did not make any firm commitment to assist during his news briefing with visiting German Chancellor Angela Merkel.
European leaders view China - with $3.2 trillion (£2tn) in foreign reserves - as a possible sources of funds to bail out struggling eurozone economies.
Mrs Merkel will offer reassurance about the situation in Europe, watchers say.
Iran and Syria are also expected to be on the agenda during her two-day visit.
'Urgent' task
Resolving Europe's debt crisis was "urgent and important", Mr Wen told reporters.
"China is considering greater involvement in resolving Europe's debt crisis by participating in the European Financial Stability Fund and the European Stability Mechanism."
The EFSF is a temporary rescue fund expected to be replaced by the ESM - a 500bn-euro permanent bailout fund - in July.
Europe is China's biggest export market, and Mr Wen reiterated that China supported a stable euro - saying it had a "great impact" on China.
But Mrs Merkel told reporters that Chinese leaders had stressed that European leaders needed to do more to resolve the eurozone crisis themselves before Beijing stepped in, Reuters news agency reported.
Accompanied by a 20-strong trade delegation, Mrs Merkel is scheduled to meet President Hu Jintao in the capital.
On Friday, she will visit Guangdong province with Mr Wen and executives from various industries.
Mutual dependence
This is Mrs Merkel's fifth visit to China. The BBC's Stephen Evans in Berlin says the two countries need each other.
Chinese purchases of German goods have kept the German economy growing much faster than that of other European countries, he adds, and Chinese imports of German technology has allowed the Chinese economy to improve.
Mrs Merkel is also likely to seek support from China for a UN Security Council resolution against Syria, and urge Beijing not to increase its imports of Iranian oil, following EU bans last month.
Also on the agenda is access to what are called "rare earth elements" used in the manufacture of many electronics components.
China mines 97% of the global supply and has been accused of limiting its supply to fetch higher prices.