River pollution sparks panic water buying in China city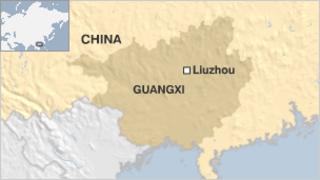 Residents in Liuzhou city in southern China have been emptying supermarket shelves of bottled water in panic buying sparked by river pollutants.
Authorities found excessive levels of cadmium dumped into Longjiang River in Hechi City of the Guangxi Zhuang Autonomous Region last week, state news agency Xinhua reported.
A mining company, Jinhe Mining Co, was found responsible, officials said.
Liuzhou city is located at the lower end of the river.
Official tests of the water at a nearby hydropower station on Wednesday found excessive levels of cadmium three times the accepted limit, said Chinese media reports.
The tests were conducted after fish kept in cages at another hydropower station at the upper reaches of the river were found dead on 15 January.
Cadmium, commonly found in industrial usage such as production of batteries, is a carcinogen which can damage the kidneys, bones and respiratory system.
Over the past week, the local fire department has been putting neutralisers into the river in an attempt to treat the contamination.
Water sample test results are being updated in local media and local authorities say measures have been taken to ensure a steady supply and price of bottled water.
Guangxi was China's largest coal importing region in 2011 - fuelled by the demands of local industry.