Tibetan protester 'killed by Chinese police gunfire'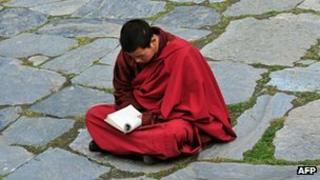 Chinese security forces have opened fire on ethnic Tibetan protesters in the province of Sichuan, killing at least one man, Tibetan activists say.
Rights groups and the self-declared Tibetan parliament-in-exile quote eyewitnesses as saying scores of people were injured, many of them by gunfire.
The activists say the demonstrators demanded freedom for Tibet.
The official Xinhua news agency confirmed that one protester was killed and five police officers were injured.
It said the violence had broken out when dozens of people, including monks, attacked a police station with clubs and stones.
The incident took place in the county of Draggo, known as Luhuo in Chinese.
The area is a Tibetan-dominated part of western Sichuan, which borders China's official Tibetan Autonomous Region.
The London-based rights group Free Tibet quoted eyewitnesses as saying a large group of Tibetans marched on government offices, where the security forces opened fire.
The demonstration is said to have begun following the arrest of several people after pamphlets were distributed calling for Tibetan freedom.
Immolations
Free Tibet quotes eyewitnesses as saying the man who was killed - named as Yonten, aged 49 - was shot in the head, and that more than 30 other demonstrators were injured by gunfire.
The self-declared Tibetan parliament-in-exile in India, which has also reported on the unrest, says the protesters demanded the return of their exiled leader, the Dalai Lama.
Events in ethnically Tibetan regions are difficult to verify, and Chinese officials have made no comment on what happened on Monday in Sichuan.
But the BBC's Martin Patience in Beijing says they appear to be the latest indication of serious unrest sweeping China's Tibetan areas.
Since March 2011, 16 ethnic Tibetans have set themselves on fire in what are described as protests at perceived cultural and religious repression under Chinese rule. Several of them are known to have died.
The authorities in Beijing have moved to suppress religious activism since riots in Tibet four years ago killed 19 people.
China's government has described the self-immolators as terrorists and has accused the Dalai Lama of encouraging their actions in order to put pressure on the authorities to make political concessions.