Suicide blast 'over land row' kills China family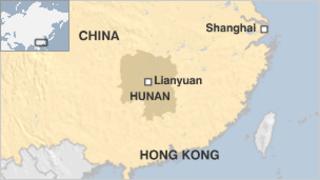 Five people were killed in China when a man set off explosives strapped to his body during a New Year family meal, state media said.
Xinhua news agency said the incident, in Hunan province, was triggered by a land dispute.
The man, named by the agency as Liao, went to his cousin's house in Lianyuan City and blew himself up.
He and four of his relatives died, Xinhua said, and six other people were injured.
"Initial police investigation suggested that Liao and his cousin may have some disputes over land use," Xinhua news agency said.
Mr Liao had been working in the city and had returned to the village for the Lunar New Year festivities, it added.
Land disputes are a common source of tension in rural China, leading to tens of thousands of protests every year.
But this type of violence is rare, reports the BBC's Martin Patience in Beijing.
Last year - however - a series of bombs were detonated in the eastern city of Fuzhou.
The attacker and two others were killed in the incident, which the authorities say centred on a land dispute.