China to extend controls over internet microblogs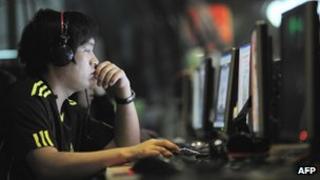 China says it plans to compel more users of internet microblogs - similar to Twitter - to register with their real names.
The internet regulator, Wang Chen, said pilot schemes in five Chinese cities would eventually be extended.
Name verification would become standard for new users, he said, and would be required of existing users later.
China's microblogs often highlight official misconduct, but the government says some spread malicious rumours.
Critics say real-name registration is an attempt to deter negative comments about the government and to make it easier to trace the authors of such postings.
Microblogs quadrupled
Twitter - along with Facebook - is banned in China, and the internet is strictly controlled to block content that the authorities deem offensive or politically unacceptable.
But microblogs, or weibo - short-message services similar to Twitter - have become hugely popular. The number of microblog users quadrupled in 2011, according to a think-tank report, with nearly half of China's 513 million internet users accessing weibo sites.
In December 2011 several Chinese cities, including Beijing and Shenzhen, began requiring weibo users to register with their real names before posting comments online.
The December regulations affected millions of microbloggers using the largest weibo companies, Sina, Sohu and Tencent, which are based in those cities.
Wang Chen, the minister in charge of the State Council Information Office, told reporters in Beijing that real-name registration would be extended to other areas once the pilot programmes had proved successful.
Name verification would be standard for new users, he said, while existing users would be required to register later.
'Harmful information'
"On the one hand, microblogs can reflect the social situation and public opinion, and broadcast a positive public voice," Mr Wang was quoted as saying by Reuters news agency.
"At the same time, microblogs... can make it easy to disseminate a few irrational voices, negative public opinion and harmful information."
In 2011, events such as the Wenzhou high-speed train crash and mass protests in Dalian and Wukan quickly achieved national prominence through weibo, where messages and images can be forwarded thousands of times.
Analysts say the Communist authorities in Beijing have become increasingly concerned about the speed with which weibo can spread information not controlled by official media.
Advocates of free speech have described the latest measures as an attempt to inhibit online discussion as China embarks on a year of political transition in 2012.