China morning round-up: Internet boom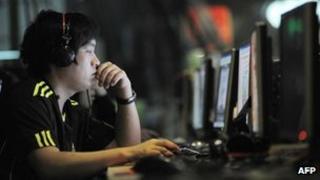 Tuesday's newspapers in China report on the rapid expansion of China's microblogging community.
The Global Times and others report on the official figures released by the China Internet Network Information Centre (CNNIC). The centre said the number of Chinese Internet users had passed 500m in 2011, with nearly half of them using microblogs.
Citing a pundit from the official Chinese Academy of Social Sciences, the People's Daily said China was going through the peak of "cyber migration".
The CNNIC report warned, however, that although 60% of the population still remained off the web, market expansion had reached a bottleneck as almost everyone who could afford and was capable of using the internet had already gone online.
Premier Wen Jiabao's speech delivered at the Fifth World Future Energy Summit in Abu Dhabi has also received much attention.
In his speech, the Chinese premier proposed "a global governance mechanism for energy under the G20 framework to stabilise oil and natural gas markets", reports the China Daily.
People's Daily published the full text of Mr Wen's speech, in which he repeated China's pledges on sustainable developments.
The paper also reports Japan's intention to name some unnamed islands near the disputed Senkaku Islands - also known as Diaoyu in China - with an accompanying commentary that reiterates China's sovereignty over the islands.
Both the report and the commentary are rather brief, however.
China Daily also reports on a speech by Vice President Xi Jinping, which marks the 40th anniversary of the visit by US President Richard Nixon to China.
The United States should view China's strategic intentions in an objective way, said Mr Xi, and ensure that disputes between the two countries did not harm ties.
Mr Xi also revealed that he would soon be visiting the US in response to the invitation by his counterpart, Joe Biden.
At the same time, People's Daily runs a commentary on the front page of its Overseas Edition, which further lashes out on Washington's recent strategic defence review.
The commentary asks the US to treat China's defence development "with rationality".
On the other hand, newspapers including The Standard in Hong Kong reports on the announcement in Hong Kong by UK Chancellor George Osborne that Britain is to team up with Hong Kong in developing London as a major offshore trading centre for China's yuan.