Tibetan self-immolation triggers clash in China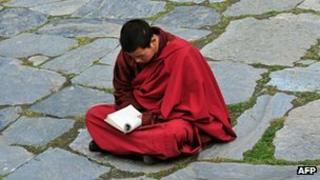 A Tibetan has set himself on fire in China, the latest in a series of self-immolations, prompting clashes between police and locals, activists say.
The self-immolation happened in the town of Aba in Sichuan province.
It was not known if the Tibetan had died; he is believed to be male, although that is not confirmed.
Saturday's incident brings to 16 the number of Tibetans who have set themselves alight in the past year, mostly in Sichuan province.
Protesters are demanding an end to tight Chinese controls in ethnically Tibetan areas, activists say.
Two activist groups say a woman was shot during the unrest.
"According to at least two or three sources, a Tibetan layperson set themselves on fire this morning in Ngaba town. As police put out the flames, they beat him severely," said Kate Saunders, of the International Campaign for Tibet, a London-based group.
This prompted local people to try to recover the body, prompting clashes with police, the activists say.
The Dalai Lama has condemned the self-immolations, but says people are being driven to desperation by "cultural genocide" under Chinese rule.
Beijing rejects this and accuses the Tibetan spiritual leader of encouraging people to set themselves on fire.
The Chinese authorities say their policies have brought a better standard of living to many Tibetans.
China is reluctant to allow journalists access to sensitive Tibetan areas and information about what is happening on the ground is difficult to verify.