China morning round-up: Sino-US wrangling over Iran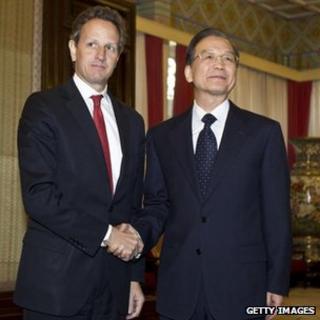 Thursday's national newspapers in China continue to focus on the visit by US Treasury Secretary Timothy Geithner.
China Daily said Premier Wen Jiabao had focused on the "big picture" in his talks with Mr Geithner, in which Mr Wen said: "We should take care of the core interests and concerns of each other, and resolve friction appropriately."
While it is not known exactly how Chinese leaders responded to Mr Geithner's appeal for support on tougher sanctions on Iran, the Global Times and others report on the Foreign Ministry's defence on the issue.
"Iran is also an extremely big oil supplier to China, and we hope that China's oil imports won't be affected, because this is needed for our development," Vice Foreign Minister Zhai Jun told a press conference.
Further defence also appears in two commentary pieces in the People's Daily.
In the Overseas Edition, a researcher from the Ministry of Commerce said there was "no point" for China to "blindly follow" unilateral sanctions set by Washington.
Another commentary in the domestic edition warns the US against playing games with the Iranian nuclear issue "like throwing out a dart".
A report run by the China Youth Daily says Washington is simply bluffing by building up a picture that a US-Iran war is looming. It is no more than stacking up its bargaining chips, says the report.
And building up a picture that US is aiming to threaten China, the Global Times, citing the Wall Street Journal, reports in its English edition that Washington will create a panel to monitor and tackle possible trade and other commercial violations by China.
In its Chinese edition, the paper says one-third of US battleships will be positioned in the West Pacific, which a "local think tank" believes is aimed at the South China Sea.
In other news, China Daily and others report on the latest State Council decision to publish a blacklist of businesses with shoddy practices.
The list is expected to be administered by the General Administration of Quality Supervision, Inspection and Quarantine - China's top quality watchdog.
Beijing News reports that the Chinese capital is to begin releasing real time air quality monitoring data on PM10 - particles under 10 micrometres - on Thursday as promised last week.
This national hot topic also dominates discussions in the local legislature meetings that are underway.
Mayor of Shanghai Hang Zheng said the financial hub would strive to become one of the first cities to report monitoring data on the smaller PM2.5 particulates, says the Shanghai Morning Post.
Guangzhou's Southern Metropolis Daily also says provincial authorities in Guangdong are aiming to publish PM2.5 data from cities in the Pearl River Delta region within the year.
Also in the news, China Daily and others report on six giant pandas released into the wild in Sichuan, with former NBA star Yao Ming and his wife attending the ceremony.
The province's West China City Daily reports that as the couple had fun with the pandas, most of the journalists paid more attention to the celebrity couple.
And newspapers including the China Daily continue their coverage of the ongoing manhunt for an armed robber who killed one man in Nanjing, confirming that the suspect is a former soldier.