Geithner in Beijing seeking support on Iran sanctions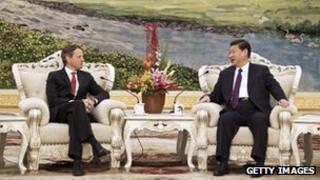 US Treasury Secretary Timothy Geithner is in Beijing meeting Chinese leaders to seek support for sanctions on Iran's oil industry.
He met counterpart Vice Premier Wang Qishan on Tuesday night and is meeting Premier Wen Jiabao, Vice President Xi Jinping and Vice Premier Li Keqiang today.
Both countries pledged to work together to boost global economic recovery.
But, watchers say, it remains unlikely that China will support sanctions.
China buys almost a third of Iran's oil exports and has rejected US unilateral actions in the past.
The meeting with Mr Xi, who is in line to become China's next leader, started on a friendly note.
"I believe your visit will go a long way to promote the stability and further growth of our economic relationship," he said to Mr Geithner at the Great Hall of the People in central Beijing.
''On economic growth, financial stability around the world, on non-proliferation, we have what we view as a very strong co-operative relationship with the government and we are looking forward to building on that," Mr Geithner replied.
He also conveyed greetings from President Barack Obama and Vice President Joe Biden. Mr Xi is due to visit the US in the upcoming months.
Mr Geithner is also expected to raise the issue of China's currency in his meetings with the Chinese leaders.
Mixing Issues
His visit comes amid international tension after the UN's nuclear watchdog said Iran had begun enriching uranium to a higher grade than is needed for power generation.
On New Year's eve, US President Barack Obama authorised a law imposing sanctions on financial institutions dealing with Iran's central bank, which is responsible for processing most oil purchases in the Islamic republic.
China has backed UN Security Council resolutions calling on Iran to halt uranium enrichment activities. But it has also criticised the US for imposing sanctions beyond the resolutions.
Ahead of Mr Geithner's visit, China stressed that its oil imports are unrelated to nuclear issues. It relies on Iran for 11% of foreign oil imports.
"We should not mix issues with different natures, and China's legitimate concerns and demands should be respected," a Chinese deputy foreign minister, Cui Tiankai, said on Monday.
Mr Geithner's visit comes ahead of Mr Wen's scheduled visit to the oil and gas producing countries of Saudi Arabia, Qatar and the United Arab Emirates this weekend - a sign that China may be seeking other options for its energy supply.
Mr Geithner also is due to meet Japanese Prime Minister Yoshihiko Noda and Finance Minister Jun Azumi in Tokyo on Thursday.
Japan is another major buyer of Iranian oil, depending on imports from Tehran for about 9% of its power consumption last year.