Beijing to release more air pollution data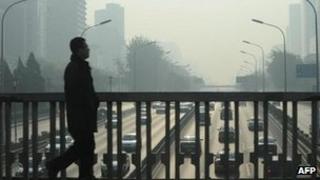 Authorities in the Chinese capital have agreed to release more detailed reports on air pollution.
Beijing's Environmental Protection Bureau will begin to publish monitoring data on fine particulate matter before the Chinese New Year, it said in a statement.
An online campaign calling for reform of the system was launched last year.
It has received widespread support across China, including from some famous figures.
Filthy air
Beijing residents have become increasingly concerned at the way the government measures air quality - something that was exacerbated when the US embassy began publicising its own pollution readings.
The embassy readings have frequently been much higher than the official ones.
The discrepancy is because the US embassy measures particles under 2.5 micrometres (PM2.5), while most local authorities including Beijing monitor particles under 10 micrometres (PM10).
Health experts warn that the smaller particles can move further into the lungs, causing respiratory problems.
Beijing is now preparing to release real-time monitoring data of PM10, sulphur dioxide and nitrogen dioxide on the environment bureau's website before the Chinese New Year.
At the same time, PM2.5 monitoring data "for research purposes" will also be made available for reference, says the statement published on Friday.
Real-time PM2.5 data will eventually be made available "pending new national standards and relevant monitoring criteria".
The new measure is expected to be welcomed by environmentalists in China.
However, Wang Qiuxia, an air pollution expert with Chinese group GreenBeagle, warned that cleaning up Beijing's air would be a long process.
"According to some assessments it will take 20 years before we see an improvement in Beijing's air quality, provided that proper measures are adopted," she is quoted by the AFP news agency as saying.