Uproar over China's 'angry dragon' stamp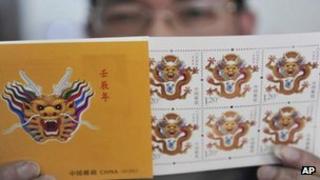 A Chinese postage stamp to mark the upcoming Year of the Dragon has sparked uproar among the public because the dragon is thought to look "too fierce".
One Chinese writer is quoted as saying she was "scared to death" on seeing the image of the creature with its claws, scales and bared teeth.
China Post, which produced the stamp, insists it is a perfect combination of history and modernity.
The stamp's designer says a tough image was needed for a powerful creature.
"Among everyday people, the dragon is thought to exorcise evil spirits, avert disasters and give blessings, so we need a tough image," Chen Shaohua is quoted by the China Daily as saying.
The dragon has been a symbol of Chinese imperial power for centuries.
But media figures and people posting on Chinese microblogging sites have said the image is inappropriate and too ferocious.
The controversy has not stopped people from queuing for the stamp, with many post offices reporting that the stamp sold out on the first day.
"It's worth buying. The design is pretty nice," one collector told the Associated Press news agency outside a post office in Beijing.
Among the critics of the stamp is Xu Lin, a senior editor at the official People's Daily, and an executive of the Photojournalist Society of China.
"It is justified to be unyieldingly ferocious if it is facing the outside", said Mr Xu on his Sina Weibo page, "but this stamp is supposed to be used within the country most of the time."
Mr Xu asked: "Is it suitable to be ferocious internally?"
The first set of real Chinese stamps was used in 1878 when the Qing Dynasty issued the Giant Dragon stamps.
China and Chinese expatriates around the world will usher in the Year of the Dragon on 23 January.