Legionnaires' disease found at HK government complex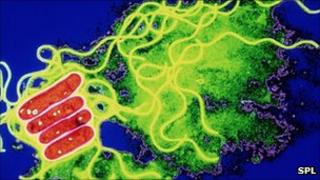 Hong Kong's brand-new government headquarters compound is contaminated with bacteria that cause Legionnaires' disease, officials have confirmed.
Health officials conducted an investigation after a minister was hospitalised with the potentially fatal disease last month.
Traces of the bacteria were found to be up to 14 times above acceptable levels.
Authorities are now disinfecting the buildings.
Hong Kong's Centre for Health Protection has been collecting water samples from various sites in the new Central Government Offices after Education Secretary Michael Suen was diagnosed with Legionnaires' disease last month.
Samples collected from various toilets - including those at the office of Chief Executive Donald Tsang - tested positive for Legionella pneumophila, said a government statement.
Other troublespots include water taps inside the kitchens of a canteen and the Dining Hall in the Legislative Council Complex.
Wong Kwok-hing, a pro-Beijing unionist legislator, has described the news as a "scandal".
He says government offices and the legislature should return to their original locations if the situation gets worse, reported local public broadcaster RTHK.
However Dr Thomas Tsang, controller of the Centre for Health Protection, said there was no need for officials to stay away from the new building.
The HK$5.5bn site ($708m; £455m) was officially opened last August by Chinese Vice Premier Li Keqiang.
Back then, most of the site was still undergoing engineering work.
Former legislator and physician Lo Wing-lok blamed a rushed move into the new compound for the presence of the deadly bug.