China launches first 3D TV channel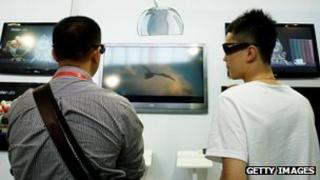 China has launched its first three-dimensional television channel (3D TV) on a trial basis.
The channel, operated by China Central Television (CCTV) and five local stations, aims to be launched formally over the upcoming Chinese New Year.
People who have 3D TV sets and high definition digital TV set-top boxes can watch the new service.
Countries like Japan, South Korea and India have already launched similar services.
The free-to-air channel will initially broadcast 4.5 hours of 3D programming each day which will be repeated twice, says the official Xinhua News Agency.
"The launch of the 3D trial channel is a significant step in the development of China's television," said Cai Fuchao, head of the State Administration of Radio, Film and Television (SARFT).
The broadcast regulator also suggested that the new service could generate huge revenue for the industry if a proportion of China's 500 million TV sets were replaced by 3D ones.
Opinion among the public varied. Some users of Sina Weibo - one of China's Twitter equivalents - said they were looking forward to the new service.
Others expressed scepticism, saying they would wait until new 3D TV sets that did not require specialised glasses arrived.