China morning round-up: Hu Jintao in new year appeal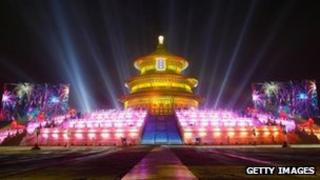 Newspapers across China report on President Hu Jintao's appeal for strengthened confidence to accomplish the tasks of 2012.
President Hu made his call at an annual New Year's Day tea party of the Chinese People's Political Consultative Conference (CPPCC).
"To accomplish tasks of this year, we must strengthen confidence, tackle thorny problems and advance in a pioneering spirit," Mr Hu said, in a speech carried by the People's Daily and others.
He also stressed the importance of "continuity and stability" in macroeconomic policies in order to maintain economic growth and a stable consumer price level.
Meanwhile, local papers such as the Beijing News spell out a grim picture of the property markets. Housing transactions for new-builds in the capital have seen an annual drop of 18.4% in 2011 to 90,600 units, the report says.
Guangzhou's Southern Metropolis Daily reports on the situation in the southern financial city of Shenzhen, which has seen a drop of 15% to 32,000 units - the lowest in a decade.
A new era of television broadcasting has also been marked. People's Daily reports that China has launched its first ever three-dimensional (3D) TV service on New Year's Day.
The national channel - operated by the official China Central Television (CCTV) - is now running on trial basis, and will be formally launched during the upcoming Spring Festival - or Chinese New Year - in just a few weeks' time.
Sunday is also the first day that broadcasters across China were banned from showing advertisements during TV dramas, and as Sichuan's West China City Daily reports, major regional broadcasters seem to be coping well.
China Daily and People's Daily also report on the capital's pledges that the supply of agricultural products to Hong Kong and Macau will be safe and abundant "to ensure a wealthy Chinese New Year for fellow citizens".
The former British colony of Hong Kong and former Portuguese enclave of Macau rely heavily on Mainland China for daily food supplies, and various food safety incidents in recent years have raised concern among many residents.
However, reports in Southern Metropolis Daily and Beijing News suggest that a Shenzhen bus driver who died from the H5N1 bird flu strain might have been infected by poultry - a piece of news that might worry many people in neighbouring Hong Kong.