Alleged Chinese smuggling kingpin Lai Changxing 'confesses'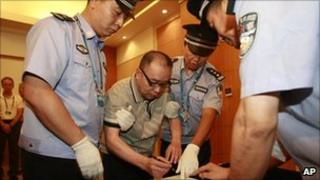 The alleged head of a multi-billion dollar smuggling ring in south-east China has confessed and now faces trial, Chinese state media say.
Lai Changxing is accused of bribing officials and smuggling goods including cars, cigarettes and oil in one of China's biggest political scandals.
He fled to Canada in 1999 and avoided extradition for 12 years by arguing he faced torture and execution in China.
Beijing promised Canada he would not be executed and he was deported in July.
Canada usually forbids the extradition of suspects to countries where they might face the death penalty.
The long-running case had soured Sino-Canadian relations.
Priority case
China's state-run news agency, Xinhua, said investigators had handed Mr Lai over to prosecutors in the city of Xiamen, in Fujian province.
A statement from the Xiamen prosecutor's office quoted by Xinhua said Mr Lai and other suspects had confessed to the charges of smuggling and bribery.
China accuses Mr Lai of running a huge smuggling operation in Fujian province from 1996 to 1999.
Officials say he dealt in up to $10bn worth of goods including cigarettes, cars, heating and cooking oil, textiles and chemicals.
Hundreds of senior members of the regional political establishment were implicated in the case, including customs, police and government officials.
Some 300 were punished for their involvement in the operation and at least two officials were executed.
The case has been a priority for Beijing, which has vowed to curb widespread corruption.
China is believed to carry out more executions a year than any other country, but, in this case, has promised Canada that Mr Lai will receive a fair trial and will not face the death penalty.