Deal in China rebel village Wukan welcomed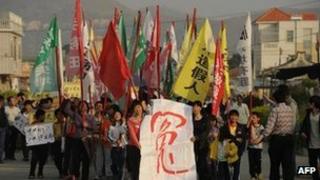 Chinese state media has welcomed the apparent resolution of a high-profile stand-off over land seizures between villagers and local officials in Wukan.
The People's Daily praised provincial officials for negotiating with local people to resolve the row.
In an editorial, it blamed local officials for failing to address the villagers' "reasonable demands".
Meanwhile in a report on the row, China Daily said two local officials had been removed from their posts.
"Xue Chang, chief of Wukan Party committee, and village head Chen Shunyi have been removed from their posts for allegedly violating the laws in selling land to property developers," the newspaper said.
It also quoted Wang Yang, the Communist Party chief in Guangdong province, as saying the dispute was "accidental" but also "inevitable".
"This is the result of conflicts that accumulated over a long time in the course of economic and social development. We should take the problem into serious consideration and take effective measures to solve it," he reportedly said.
'Mediation needed'
Protests have been simmering in Wukan, in Guangdong province, since September and escalated after the death of a village negotiator in police custody.
The villagers say officials have sold off their land to developers and failed to compensate them properly.
They also want an investigation into the death of Xue Jinbo, who died on 11 December while in the hands of local police. Police say he died of a "sudden illness", but his family say he was beaten to death.
On Wednesday deputy provincial Communist Party secretary Zhu Mingguo met village representatives and reportedly reached an agreement.
The land deal has been frozen, China Daily said, and an investigation will be held. An autopsy will also be performed on the body of Xue Jinbo, and a group of village leaders detained by the authorities will be freed.
"The initial error of the local government in the Wukan incident was its failure to head the reasonable demands of the villagers, which escalated reasoned petitioning into excessive actions," the People's Daily editorial said.
The Global Times called for better regulation, saying: "China should speed up the process of setting up a judicial authority to deal with interest disputes such as land disputes. Laws and regulations should be improved and implemented decisively."
On Wednesday China's security chief, Zhou Yongkang, said efforts to resolve conflicts at the community level had to be improved.
"(We must) deepen our efforts to mediate conflicts and disputes, improving the system of mediation to resolve conflicts and disputes at the grassroots level and nip them in the bud," Xinhua news agency quoted him as saying in a speech.
There are thousands of protests over land grabs in China each year but the situation in Wukan has attracted considerable attention because of its longevity and scale.