China village protest: Wukan residents plan march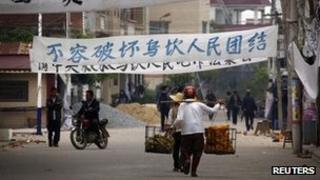 Residents in the southern Chinese fishing village of Wukan say they are determined to march to the city in an ongoing dispute over land grabs.
Violent protests erupted earlier this month when their negotiator, Xue Jinbo, died in police custody.
A villager told the BBC that police have surrounded the village's waterfront and food supply is limited.
Meanwhile the local Communist Party head has lashed out at the villagers for talking to foreign reporters.
There have been simmering protests over land seizures in the village, in Guangdong province, since late September.
Residents say officials have sold off their land to developers and failed to compensate them properly. They also believe Mr Xue was killed by police - who say he died of a "sudden illness".
They say they plan to petition the Lufeng city government on Wednesday to demand a solution to the problem.
One villager, nicknamed Ah Kim, told the BBC that residents were determined to march to the city despite numerous phone calls from "people working for the government" telling them to hold off.
But another resident, Yang Semao, who is head of the villagers' temporary committee, said they would send representatives to negotiate with officials in Lufeng if certain conditions were met.
The government had to remove police barricades, allow more journalists to see Xue Jinbo's body and set up an investigation into the disputes in Wukan, Mr Yang told Reuters news agency.
Some villagers disagree with his proposal, Reuters reports, and the local Communist Party secretary for Shanwei - which oversees Lufeng and Wukan - has sent mixed signals on reconciliation.
Zheng Yanxiong criticised villagers for talking to "a few rotten foreign media organisations" instead of the government about their grievances.
"These media organisations will only be happy when our socialist county falls apart," he said. The local television station broadcast his comments this week.
Mr Zheng later told local media that the government was willing to compensate the villagers for their land, but refused to promise not to prosecute protesters.