China village protest: Wukan mediator Xue Jinbo mourned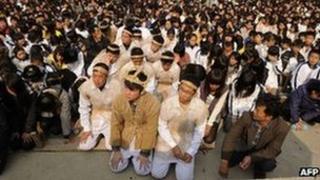 Residents of a Chinese fishing village locked in a dispute over land seizures have mourned a negotiator who died in police custody.
About 7,000 people gathered for a ceremony for Xue Jinbo in Wukan, in the southern province of Guangdong.
His death sparked new protests in the village, which has seen unrest since late September.
Officials say he died of a heart attack but relatives suspect he was beaten and he was mourned as a community hero.
One funeral banner read "You sacrificed your life for our land", villager Qin Zhuan told AFP news agency over the phone.
The BBC's Martin Patience, who was in Wukan on Thursday, witnessed a stand-off between villagers and authorities. Both have set up checkpoints around the village.
Wu Zili, acting mayor of Shanwei, which oversees Wukan, has promised to investigate the land grabs, but also said that those inciting unrest would be punished.
Xue was detained along with a group of others last week as a criminal suspect in relation to the September protests.
Three days of riots erupted in the village of about 20,000 when residents, who accused officials of colluding with developers to take their land, clashed with authorities and demanded compensation.
On Monday the authorities announced that Xue had died of a "sudden illness" on the third day of his detention.
But villagers and his family are still questioning the cause of death. His body has not been returned, they say.
"Right now we have only one demand, and that is that they return the body of my father," Xue's son, Xue Jiandi, told AFP. "He belongs to us, not to the government."