Nobel winner Tutu urges China to free Liu Xiaobo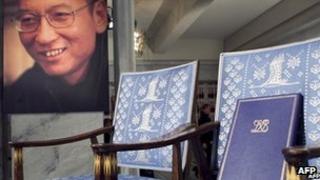 Five Nobel Peace Prize winners have called on China to free fellow laureate Liu Xiaobo, on the eve of this year's award ceremony.
The group, which includes Archbishop Desmond Tutu, expressed fears that Mr Liu's family and friends are being silenced in a "wave of intimidation".
Mr Liu, who won the prize last year, is serving an 11-year jail term for criticising the Beijing government.
China regards him as a criminal and was angered by the decision to honour him.
The five Nobel laureates along with other activists have organised a committee to campaign for Mr Liu's release.
"The international community seems to have forgotten that, a year after the award ceremony, Liu Xiaobo remains in prison in China and in harsh conditions," the committee said in its first statement.
"The committee calls on all those committed to freedom of thought and opinion to join the committee in its efforts to obtain the release of Liu Xiaobo."
Other Nobel laureates involved in the effort include Iranian rights lawyer Shirin Ebadi, anti-landmine campaigner Jody Williams and Northern Ireland campaigners Mairead Maguire and Betty Williams.
Former Czech president Vaclav Havel is among the other activists on the committee.
Mr Liu was convicted of inciting subversion in December 2009. He had helped to write a pamphlet called Charter '08 that called for more democracy in China.
The Nobel committee is due to announce this year's prize winner on Saturday.