China completes Wenzhou bullet train crash probe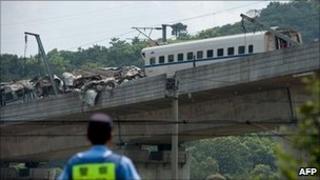 China's investigation into the Wenzhou bullet train crash, which killed 40 people on 23 July, has finally been completed, officials say.
Investigators are now working on the evidence gathered and will file a report, a Chinese official confirmed.
Almost 200 people were injured in the deadly crash which sparked a public outcry over safety standards.
Investigators have previously said they intended to release the report by mid-September, but nothing materialised.
But Huang Yi, spokesman for the State Administration of Work Safety, told Xinhua News Agency that the team will "submit the report as soon as possible and publicise the results to give a sincere, responsible answer to the people".
Before the crash, China's high-speed train network had been a symbol of the country's rapid development, says the BBC's Martin Patience in Beijing.
But the accident in the south-eastern city of Wenzhou prompted accusations that the authorities were jeopardizing safety in their rush to develop.
Following the accident, the authorities called a temporary halt to new projects and placed speed restrictions on trains.
Last month, state media quoted Wang Menshu - the deputy head of the investigation team - saying that the crash had been caused by "poor management".
He also told a newspaper that equipment had not been properly maintained.
But later Mr Wang withdrew his comments and played down his own role in the investigation team.