Is Beijing's smog getting worse?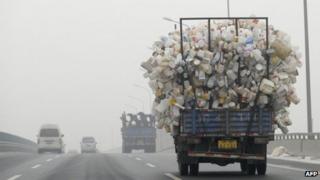 The end of the year usually sees the best weather in Beijing - sunny days, cool nights and the cleanest air.
But this year seems different. Residents have woken up to a succession of days with the city shrouded in smog.
Officials maintain that air pollution is on the decrease - but it does not feel like that for many people who live here.
They are now demanding more information about air pollution and its effects on their health.
The last few days in Beijing - and across large parts of northern China - seem typical of recent months: smog reducing visibility to just a few hundred metres.
Flights have been cancelled, roads have been closed and in some areas drivers have had to keep their lights on throughout the day.
"Run away from fog capital," said one online blogger, speaking about Beijing. It was just one of millions of entries on Chinese microblogging sites.
"I'm the father of two daughters and so I'm very worried about my children's health," said Gao Changling, as he made his way home from work.
Thousands of Beijing residents have bought face masks over the last few days to protect themselves.
But is the pollution really getting worse?
'Misinformation'
There is heated debate, the argument complicated by disagreements over how to measure pollution, where it should be measured and what standards should be used to grade air quality.
China uses the PM10 standard (measuring particulate matter with a diameter of 10 millionths of a metre or less), for example, to check the concentration of small particles in the air.
But a monitoring facility installed at the US embassy in Beijing uses a stricter PM2.5 measure, which measures smaller particles which can work their way further into the human body.
The embassy regularly records higher levels of pollution than the Beijing government, something local residents can see on the embassy's Twitter reports of its results.
Steven Andrews, a Beijing-based environmental consultant, believes the government is not being completely honest about pollution levels.
"It continues its misinformation campaign that has misled the public and helped prevent real improvements in the city's air," he wrote on Chinadialogue, an environmental website.
Not everyone agrees though.
The city's environmental protection bureau maintains that the number of "blue sky days" has steadily increased over recent years.
"The pollution is definitely better than 10 years ago," said Prof Zhu Tong, who advised the government about air quality for the Beijing Olympics.
But he added that people now are more aware of the issue and less willing to put up with breathing in polluted air.
"As they get richer, people become more concerned about a better environment," said Prof Zhu, of Peking University.
'Nothing to hide'
Residents' worries have not gone unnoticed. Beijing's government announced last month that it would open a monitoring centre to visitors.
We have nothing to hide from the public, declared Wang Xiaoming, a spokesman for the city's environmental protection bureau.
But it is not easy to visit the centre.
It is open to the public only on Tuesdays between 1400 and 1600. Just two groups are allowed in on each open day - meaning a maximum of 60 visitors a week.
It is not easy to find out how pollution affects the health of city residents either.
Buried in an article in the China Daily newspaper on Tuesday was a shocking statistic: the lung cancer rate has increased by 60% in Beijing in the last decade.
The comment was attributed to Mao Yu, deputy director of the local health bureau, who added that during the same period there had been no obvious increase in the smoking rate.
He said the main cause of lung cancer was still smoking, but the implication is that pollution is an increasing factor.
But health officials are not keen to talk about how they carried out their research or how they arrived at their conclusions - or even if the newspaper report is accurate.
Neither China's health ministry nor the Beijing health bureau were willing to discuss the issue when the BBC called for a comment.
As Prof Zhu said, people are now more demanding.
"They want to know how bad the air quality is - and the government hasn't been doing a good job of providing that information," he said.