Hong Kong TV station fined for Jiang Zemin death report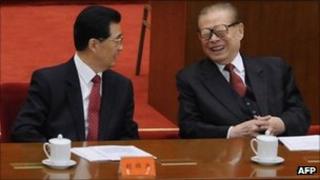 Regulators have fined a Hong Kong TV station $39,000 (£25,000) for airing a report suggesting that former Chinese President Jiang Zemin had died.
The Hong Kong Broadcasting Authority said Asia Television (ATV) had failed to ensure the accuracy of reports of the ex-leader's death on 6 July.
ATV also took too long to correct the mistake, said the regulators.
Mr Jiang did not appear at a Communist Party event, sparking speculation on the internet that he had died.
But the authorities in Beijing dismissed reports of his death, and criticised ATV for broadcasting the report.
Mr Jiang, who remains an influential political figure almost a decade after stepping down, later appeared on a TV show with his successor Hu Jintao.
The Broadcasting Authority upheld a complaint against ATV, and said in a statement on its website on Monday that the channel had taken an "irresponsible approach in its response to BA's inquiry".
Mr Jiang led China in the aftermath of the massacre of protesters in Beijing in 1989 and handed over his leadership roles to Mr Hu in 2002 and 2003.