China morning round-up: Beijing heavy smog scrutinised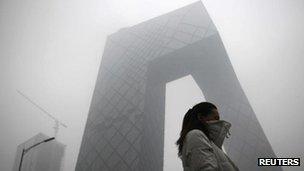 The US embassy failed to release its own air-quality index of the Chinese capital on Sunday night as readings of PM 2.5 particulates well exceeded the normal level, reports the Beijing News and others.
The municipality's Environmental Protection Bureau, however, classified the situation as "moderate pollution".
Health experts are worried that such concentrations of particulate matter in the air may lead to various respiratory diseases including lung infections and cancer, reports the China Daily, while China Youth Daily joined the ongoing public campaign to appeal for a quicker implementation of PM2.5 monitoring.
Hong Kong's Ming Pao Daily News further suggest with an academic's comment that economic benefits have prevented local governments in China from pushing forward environmental protection policies.
As Beijing itself is battling the heavy smog, China is emerging as the possible deal-breaker at UN climate talks in Durban.
Experts said China's flexibility was encouraging, says the China Daily, but it is also important to pressure developed countries for much deeper emission reduction targets.
However, an expert commentary published on the People's Daily Overseas Edition plays down the possibility of a breakthrough, "as the US is going to face a presidential election while Europe is ridden by debts".
In other diplomatic stories, the Chinese edition of Global Times - citing South Korean media - has said that South Korean police have "declared war" on Chinese fishing boats that operate in South Korean water.
And as Beijing's Foreign Ministry announced that a special envoy will be deployed to mediate talks between North and South Sudan, Guangzhou's 21st Century Business Herald carries a feature story about a group of South Sudanese diplomats receiving training in China.
In Hong Kong, newspapers have been focusing on the "record fine" imposed by the city's regulator on the broadcaster Asia Television (ATV) for running a false report on the death of former Chinese President Jiang Zemin.
The Broadcasting Authority has fined ATV HK$300,000 ($39,000; £25,000), and reveals that one of the company's senior executive has been calling the newsroom and insisted to broadcast the report, says the South China Morning Post.
Ming Pao Daily News, however, questions why the authority lays no punishment on the ATV management for interfering the news department's editorial independence.
Related Internet Links
The BBC is not responsible for the content of external sites.