Beijing to crack down on 'black jails'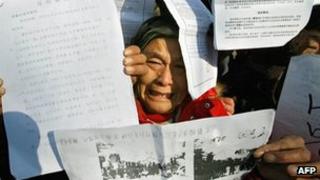 Beijing's public security bureau has launched a six-month crackdown on so-called black jails operated by private security firms in the Chinese capital.
Local governments hire the firms to stop people who travel to Beijing to voice grievances about perceived injustices in their areas.
The police say the firms are involved in illegal detention, violence and running underground jails.
The government usually prefers not to admit these kind of operations exist.
The latest details come from newspaper reports about a campaign to stamp out unauthorised security firms in the capital.
Zhang Bing, deputy head of Beijing's public security bureau, was quoted as saying there are about 300,000 private security guards in the city.
He said more than half worked for companies that were unlicensed, the Beijing News reported.
"The city's security market is in complete chaos. Some companies have been operating outside the law," he said, according to another newspaper, the Global Times.
Speaking to reporters, Mr Zhang went on to describe some of the activities undertaken by these unauthorised security firms.
"A few have even allowed their security guards to impede the flow of government work and to participate in illegal activities, such as detaining people and setting up black jails," he is reported to have said.
Black jails are temporary detention centres established to hold petitioners, people who come to Beijing to report individual problems to the central government.
Tourist assaulted
Thousands of petitioners flock to the capital every year, particularly when China's parliament meets for its annual session.
Many seek to highlight problems with their local governments, who send private security guards to Beijing to stop them.
The Global Times said police uncovered one detention centre in Beijing's Changping District in August. It had been paid for by five local authorities.
The police now say that the practice of blocking petitioners will not longer be tolerated.
Black jails and illegal detention are subjects the authorities rarely talk about, but occasionally news emerges, even in China's tightly controlled media environment.
Six officials were punished in September when a tourist from Henan Province was kidnapped and beaten up after being taken for a petitioner.
He was dragged from the hotel room he was sharing with three genuine petitioners and bundled into a van heading for Henan.
He was assaulted and left unconscious by the side of the road.
The officials appear to have been reprimanded for the error of mistaking a tourist for a petitioner - not for kidnapping four people in the first place.
Beijing's public security bureau - which declined to speak to the BBC - wants private security firms to stop mimicking the police.
It does not want them to use cars that look like police vehicles or issue personnel with uniforms that give them the appearance of police officers.
It is unclear what difference this campaign will make, as black jails have been operating in Beijing - under the noses of the police - for some years.
The authorities appear to have turned a blind eye because even China's top leaders do not like petitioners shouting about their problems in the capital.