China Eastern Airlines to improve pilots' English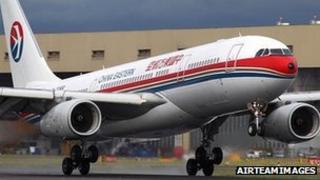 China Eastern Airlines has vowed to improve its pilots' English amid claims a plane took off without clearance from air traffic controllers in Japan.
On Monday the Shangai-bound plane took to the skies after apparently being told to stay on the runway and then to abort take-off at Osaka airport.
The plane landed safely in Shanghai later. The airline says it is co-operating with Japan's investigation.
It says it will also "regulate our flight crews' English communications".
Flight MU516, with 245 people on board, was due to fly from Osaka's Kansai International Airport to Shanghai.
As air traffic controllers were talking to an approaching helicopter they told the plane to halt on the runway, Kyodo news agency reports. But the Airbus A330 began to take off instead and disobeyed further instructions to abort, Kyodo reported.
Japan's Transport Ministry says that although the plane had enough room between itself and other aircraft nearby, the pilot might have broken the country's aviation laws.
In response to the incident, an officer at China's Civil Aviation Administration told China Daily: "We've written to our Japanese counterparts asking for materials to help us look into the case."
On its accredited Sina Weibo page - China's equivalent of microblogging site Twitter - the airline says it will "operate according to laws and regulations, and further regulate our flight crews' English communications", to ensure flight safety.
English has been the default communication language for international air traffic control, where pilots and air traffic controllers have to meet a certain standard set by the International Civil Aviation Organisation.