China regulator bans TV advertisements during dramas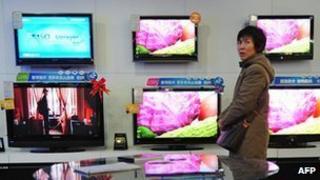 China has ordered a ban on advertisements during TV dramas as part of its reform of cultural activities.
Adverts will not be allowed in the middle of programmes lasting for 45 minutes from 1 January next year.
The authorities said this was in line with the "spirit" of a recent Communist Party meeting.
Senior leaders said then that they wanted to develop a "socialist culture", although they did not elaborate on exactly what that means.
TV stations are clear about what this latest move means for them though - they say it will result in a loss of revenue.
The latest announcement was made by China's State Administration of Radio, Film and Television (SARFT) on its website.
It said the regulation was being introduced as part of a new attitude towards culture, outlined at the party's Central Committee meeting in October.
"Radio and television are a mouthpiece of the party and the people - an important propaganda front in cultural thought," read the SARFT statement.
An organisation spokesman told Xinhua, the state-run news agency, that the aim was to make TV shows conform to "public interests and aspirations".
"In the long-run, the move will help TV dramas develop in a scientific and healthy manner," said the unidentified spokesman.
Business impact
The Communist Party has always kept close control over cultural activities such as television programming.
A few months ago it told a successful commercial station to stop broadcasting a popular talent contest called Super Girl.
At the recent Central Committee meeting, China's senior leaders appeared to indicate they wanted to keep an even closer eye on broadcasters.
This latest move will have an effect on the money made by these companies though.
"The government could really take our lives if it bans all commercial breaks during the most-watched TV series," one unidentified executive with a mainland TV station is reported to have said.
A spokeswoman for Hunan Satellite TV said this new regulation came after most advertising deals for next year had already been signed.
"TV stations bosses around the country will be having many sleepless nights," she said.
China's TV advertising industry was worth nearly 500bn ($78bn, £50bn) yuan last year.
The rights for one top slot before the main evening news on China Central Television - the nation's top broadcaster - cost 440m yuan for eight months at a recent auction.